FabFilter releases FabFilter Volcano 2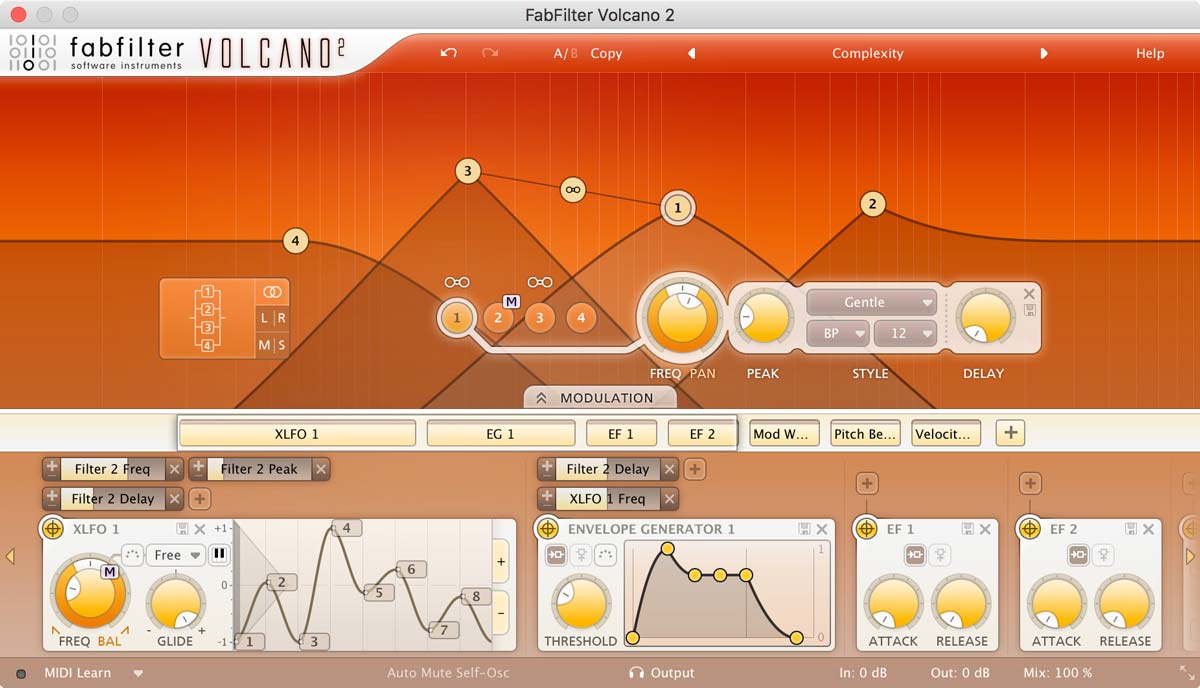 May 28, 2008
FOR IMMEDIATE RELEASE
AMSTERDAM, The Netherlands, May 28, 2008. FabFilter has released FabFilter Volcano 2, the successor of the popular Volcano filter effect plug-in. More filters and routings and practically unlimited modulation possibilities make FabFilter Volcano 2 much more powerful. Yet at the same time, the revolutionary new 'what-you-use-is-what-you-see' interface makes it also far easier to use.
To start with, Volcano 2 now contains four full-featured filters which can be routed in almost any possible way, including per-channel and mid/side modes. Each filter supports low-pass, high-pass and band-pass responses with 12, 24 and 48 dB/octave slopes and a staggering amount of eleven different high-quality filter characteristics that define the unique sound and overdrive of the filter. All characteristics have been tuned very carefully, using FabFilter's state-of-the-art filter technology. They range from clean with no distortion and smooth with moderate overdrive to raw, self-oscillating and over-the-top. Finally, each filter incorporates a delay line which enables the creation of chorus, flanging and phasing effects.
FabFilter Volcano 2 also introduces new and improved modulation sources. The new XLFOs extend our classic LFO, offering you anything from a simple sine or saw wave to a fully programmable 16-step sequencer. The XLFO features global and per-step glide parameters with adjustable glide curve type, synchronizable frequency, and our classic wave form balance feature. The new MIDI modulation sources let you modulate parameters using any form of MIDI data, like modulation wheel, pitch bend, keyboard tracking, velocity and controller data. Finally, the new well-tuned envelope followers and the classic envelope generators can use both regular input and side chain input, opening up a world of new modulation possibilities.
But undoubtedly the best feature of FabFilter Volcano 2 is the highly improved user interface with a 24-slot drag-and-drop modulation matrix that enables you to easily set up modulation connections using the 6 XLFOs, 6 envelope generators, 4 envelope followers and 10 MIDI sources. To make working with this virtually unlimited modulation power easy and understandable, FabFilter introduces the revolutionary new 'what-you-use-is-what-you-see' interface concept. The idea is simple yet powerful: Do you want another filter? Just add one! Do you want an envelope follower? Just add one and start modulating things! At all times, the interface only contains the filters, modulation sources and slots that you are actually using. This results in an intuitive user interface that will appeal to experienced producers and novices alike.
Like all FabFilter plug-ins, FabFilter Volcano 2 also offers large, perfectly fine-tuned knobs that offer quick and precise control in both vertical and circular drag modes, interactive MIDI Learn, Smart Parameter Interpolation for smooth parameter transitions, an extensive help file with interactive help hints, sample accurate automation, AltiVec and SSE optimization and much more.
FabFilter Volcano 2 is now available for EUR 119, USD 179 or GBP 94. It can be used on Windows and Mac OS X in VST and VST 3, RTAS and Audio Units plug-in formats (both mono and stereo). Bundles with FabFilter Volcano 2 and other FabFilter plug-ins are also available. See www.fabfilter.com/shop.
Existing FabFilter Volcano users can upgrade to Volcano 2 for just EUR 39, USD 59 or GBP 29. All other FabFilter customers that own Timeless, Pro-C, Twin, Simplon or One can crossgrade to FabFilter Volcano 2 for just EUR 79, USD 119 or GBP 59. These upgrade and crossgrade offers last until July 31, 2008.

System requirements for FabFilter Volcano 2 are either Windows Vista, XP, 2000, 98, Me, or 2003, SSE-capable processor, and a VST 2 or VST 3 host or Pro Tools, or Mac OS X 10.3 (Panther) or higher, Intel or G4/G5 processor, and an Audio Units host, VST 2 or VST 3 host, or Pro Tools.