FabFilter Software Instruments announce Pro-Q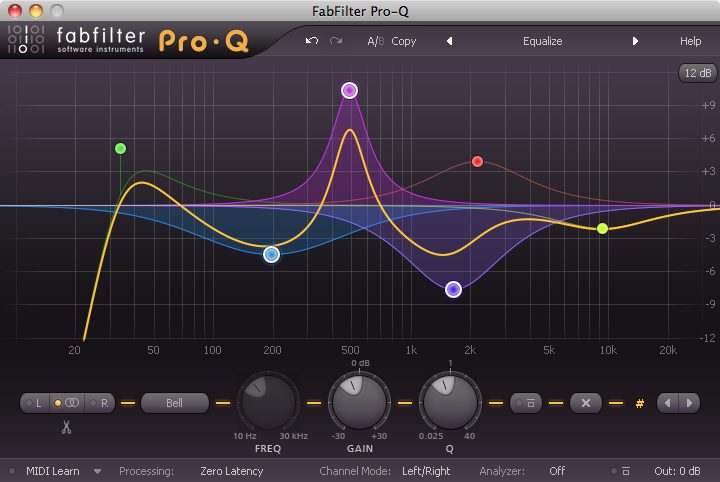 November 16, 2009
FOR IMMEDIATE RELEASE
Combining power with precision, the latest addition to FabFilter's Pro plug-in range is an EQ that delivers the cleanest sound and an uncompromising feature set, all behind a great looking, intuitive and clutter-free interface...
FabFilter's software instruments and effects have won the company many awards and fans across the globe thanks to their simple philosophy – to develop plug-ins that sound every bit as good as they look. The Pro-Q precision EQ is no exception, combining a clean and accurate sound and a never-before-seen feature set that has none of the sacrifices you normally have to make when choosing an EQ. And with all of this power crammed behind a great looking interface, Pro-Q could easily become your 'go to' plug-in for every EQ application - be it musical, surgical or creative.
With Pro-Q it's easy and intuitive to create and edit up to 24 EQ bands with multiple curves. Pro-Q has a zero latency mode, but – unlike so many other EQs - greater transparency and precision is possible with the option to switch to a linear phase mode with adjustable latency. There's also a built-in, real-time frequency analyzer that gives instant visual feedback of your signal's frequency content – be it pre- or post-EQ.
With total control of the frequency curve and unparalleled visual feedback relaying instant analysis of the signal processing also comes superb sound quality. Pro-Q's groundbreaking filter algorithms offer precise analog modeling and unlimited internal headroom. There's also a mid/side EQ option for the ultimate in sparkle and width for your mixes.
Such a comprehensive feature-set would usually impact on ease of use but Pro-Q's intuitive interface makes precise editing a breeze. The plug-in also incorporates FabFilter's clutter free 'what-you-use-is-what-you-see' feature so only displays the curves that are in use with their associated controls. Never has precision EQ-ing looked so good!
Ultimately, then, Pro-Q offers the best of everything: functionality and usability with a feature-set and sound you've always asked for behind an astonishing interface that will enhance your creativity and give you precise control over your EQ every time.
Key features:
A great sound from state of the art filter algorithms with precise analog modeling and unlimited internal headroom (no clipping)
Operates either in zero latency mode, or in linear phase mode with adjustable latency
Incredible interface that is ideal for easy and precise editing
What-you-use-is-what-you-see to minimize screen clutter and maximize usability
The ability to create new EQ bands just by dragging the frequency curve
Select multiple curves to drag and edit in parallel
Up to 24 EQ bands
Filter shapes: Bell, High/Low Shelf, High/Low Cut with 6, 12, 24 and 48dB/oct slopes
Each band can operate on the stereo signal or on the left or right channels independently for per-channel EQ-ing
Mid/side mode to EQ the mid and side signals separately
Built-in real-time frequency analyzer with Pre- and Post-EQ modes
Ability to double-click for text entry of parameter values
Different display ranges: 6dB range for mastering use, 12dB, and 30dB for sound shaping during mixing
All the usual FabFilter quality you've come to expect: perfectly fine-tuned knobs and controllers, interactive MIDI Learn, undo/redo and A/B switch, Smart Parameter Interpolation for smooth parameter transitions, an extensive help file with interactive help hints, sample accurate automation, and AltiVec and SSE optimization
FabFilter Pro-Q is now available for EUR 139, USD 199 or GBP 124. It can be used on Windows and Mac OS X in VST and VST 3, RTAS and Audio Units plug-in formats. Bundles with FabFilter Pro-Q and other FabFilter plug-ins are also available. See www.fabfilter.com/shop.
Existing FabFilter customers can purchase Pro-Q with great discounts by logging in to their online user account: www.fabfilter.com/myaccount.
System requirements for FabFilter PRo-Q are either Windows Vista, XP, 2000, 98, Me, or 2003, SSE-capable processor, and a VST 2 or VST 3 host or Pro Tools, or Mac OS X 10.4 (Tiger) or higher, Intel or G4/G5 processor, and an Audio Units host, VST 2 or VST 3 host, or Pro Tools.