FabFilter releases Pro-Q 1.02 update and announces holiday bundle sale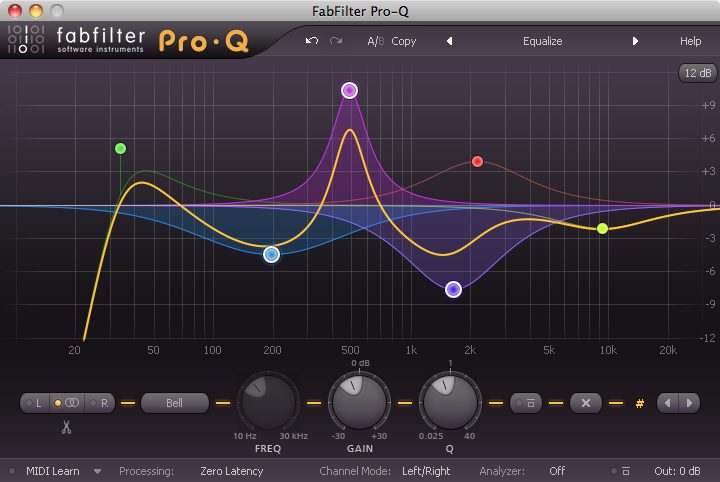 December 16, 2009
FOR IMMEDIATE RELEASE
AMSTERDAM, The Netherlands, December 16, 2009. FabFilter has updated the FabFilter Pro-Q equalizer plug-in to version 1.02, containing various bug fixes and small improvements. This is a free update for existing Pro-Q users.
In addition, FabFilter announces a holiday bundle sale running until December 31, offering 25% discount on all plug-in bundles in the online FabFilter shop: www.fabfilter.com/shop.
Here is a full list of the changes in Pro-Q version 1.02:
Fixed several issues in the EQ display when changing the Q value of multiple selected curves, especially when they have both negative and positive gain values.
Fixed bug that caused disabling EQ bands not to work in the mono version of Pro-Q.
The parameter value display in the EQ display is now positioned correctly when dragging multiple selected curves.
Double-clicking on a knob and typing a new parameter value now correctly adds a new Undo state.
Improved the 'constrained drag' mode (Alt-dragging): it is now much easier to make small vertical or horizontal changes.
Improved the auto-adjust gain range behavior: after the range has been increased, dragging still feels the same as before, and when you switch back to the original range, the mouse cursor will end up at the original position as well.
Improved the frequency response of the filter curves for low-cut and high-cut filter shapes.
Fixed a possible crash when starting to Alt- or Ctrl+Alt-drag a curve when no curve is selected at all.
The FabFilter Pro-Q 1.02 update is available now at www.fabfilter.com/download.

Originally released on November 16, 2009, FabFilter Pro-Q is a high-quality precision EQ plug-in with both zero-latency and linear phase modes, up to 24 bands and a gorgeous interface for easy and precise editing. Featuring an integrated real-time frequency analyzer and flexible per-channel and mid/side modes, FabFilter Pro-Q is the perfect tool for any mixing or mastering job.
FabFilter Pro-Q is available for EUR 139, USD 199 or GBP 124. It can be used on Windows and Mac OS X in VST and VST 3, RTAS and Audio Units plug-in formats. Bundles with FabFilter Pro-Q and other FabFilter plug-ins are also available. Existing FabFilter customers can purchase Pro-Q with great discounts by logging in to their online user account: www.fabfilter.com/myaccount.
System requirements for FabFilter Pro-Q on Windows are Windows 7, Vista, or XP, SSE-capable processor, and a VST 2 or VST 3 host or Pro Tools. On Mac, the system requirements are Mac OS X 10.6, 10.5 or 10.4, Intel or G4/G5 processor, and an Audio Units host, VST 2 or VST 3 host, or Pro Tools.