FabFilter releases Synth Classics Sound Set for FabFilter Twin 2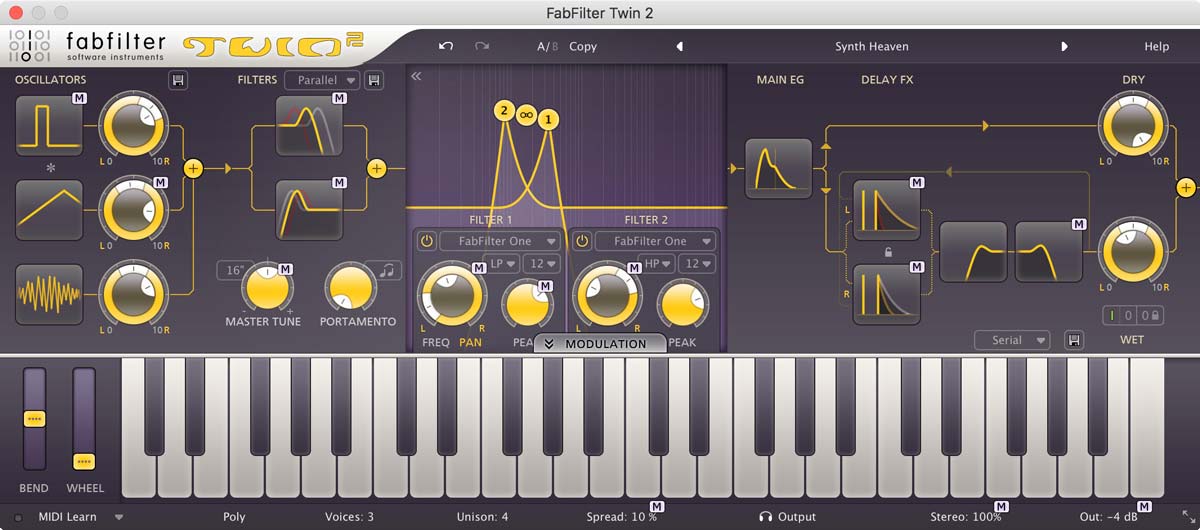 March 16, 2010
FOR IMMEDIATE RELEASE
AMSTERDAM, The Netherlands, March 15, 2010. FabFilter has released a new Synth Classics sound set by Daniel Maurer for FabFilter Twin 2, its powerful and innovative software synthesizer.
The Synth Classics sound set includes over 150 presets, featuring leads, pads, plucked sounds and a vintage polysynth selection, programmed by Daniel Maurer. All sounds were thoughtfully created to not simply bring back good memories, but to inspire new music with several fun twists the originals could never have done. Useful parameters are assigned to the Mod Wheel, Sustain Pedal and, of course, the fun X-Y pads in Twin 2 allowing for quick, painless personalization to your music.
Daniel Maurer is a long time synthesizer lover and programmer who started tweaking synthesizers in 1978. Many classic synths followed these humble beginnings and at one point he was touring with six different keyboards across North America to produce all the sounds needed. Today, Daniel's sounds can be heard in many of today's popular software synthesizers. The Synth Classics sound set was inspired by the way FabFilter Twin 2 faithfully reproduces and vastly improves both the sound and flexibility of those analog monsters Daniel used to work with.
Originally released in February 2009, FabFilter Twin 2 is a powerful synthesizer plug-in with uncompromised sound quality and creative and virtually unlimited modulation options. The innovative user interface with an uncluttered routing display makes it also very easy to use.
The Synth Classics sound set for FabFilter Twin 2 is now available in FabFilter's online shop for EUR 19, USD 28 or GBP 17. It can be used on both Windows and Mac OS X in any of the available plug-in formats. See www.fabfilter.com/shop/?p=twin .