Overview
The interface of FabFilter Pro-MB is designed to be easy to use while providing all necessary information and controls. It consists of the following elements: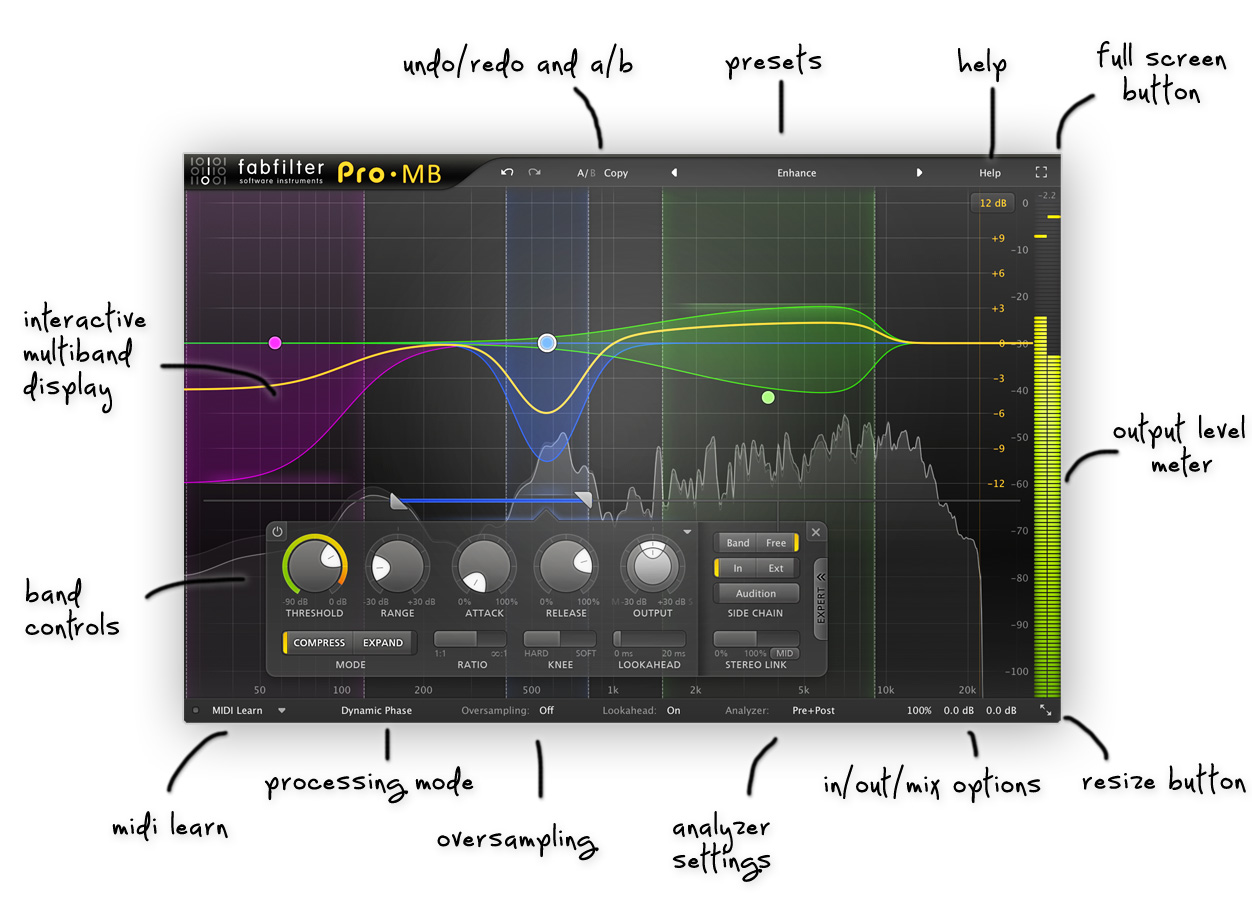 Interactive multiband display
Using the interactive display, you can easily create, organize and adjust processing bands. See Display and workflow.
Band controls
The band controls let you adjust the dynamics, level and triggering settings of one more selected bands. See Basic band controls.
Level metering
At the right of the interface, the output level meter and level read-outs provide an immediate overview of the current output level. See Input and output options.
MIDI Learn
MIDI Learn lets you easily associate any MIDI controller with any plug-in parameter. See MIDI Learn.
Processing mode
The Processing mode setting specifies how the incoming signal is split into bands before processing them. See Processing mode.

Oversampling
The Oversampling setting sets the amount of internal oversampling, which reduces possible aliasing for fast/aggressive dynamics processing and improves high-end frequency response for the Minimum Phase and Dynamic Phase processing modes, at the cost of additional CPU usage. See Oversampling.
Analyzer settings
Using the Analyzer settings, you can enable and customize the built-in spectrum analyzer that lets you visually judge the effect of processing on the incoming signal. See Spectrum analyzer.
Input and output options
At the right of the bottom bar, you can bypass the entire plug-in and adjust the initial input and final output levels. See Input and output options.
Full Screen mode, resizing and scaling
The Resize button at the far right of the bottom bar lets you change the interface size and scaling. In addition, click the Full Screen button in the top-right corner of the interface to let Pro-MB fill the entire screen. See Full Screen mode, resizing and scaling.
Presets, undo, A/B, help
With the preset buttons, you can easily browse through the factory presets or save your own settings so you can re-use them in other songs. The Undo, Redo, A/B and Copy buttons at the top of the plug-in interface enable you to undo your changes and switch between different states of the plug-in. Finally, the Help menu provides access to help and version information. See Loading presets and Undo, redo, A/B switch.
---
Next: Knobs
See Also
Quick start