About FabFilter Saturn 2
The distortion effect has played a huge role in music history. By driving and distorting a guitar amplifier, rock-and-roll was born in the 1960s! Since that day, distortion has been used in many forms, and not only to get that crunchy electric guitar sound. Today, distortion is used to color sounds in various ways while mixing, by driving vacuum tubes, saturating tape and even by reducing bit rate.
FabFilter Saturn 2 offers many flavors of distortion and sound mangling, combined with multi-band audio processing and virtually endless modulation possibilities. From subtle, clean and warm tube or tape saturation to the wildest multi-band guitar amp effects: FabFilter Saturn 2 delivers!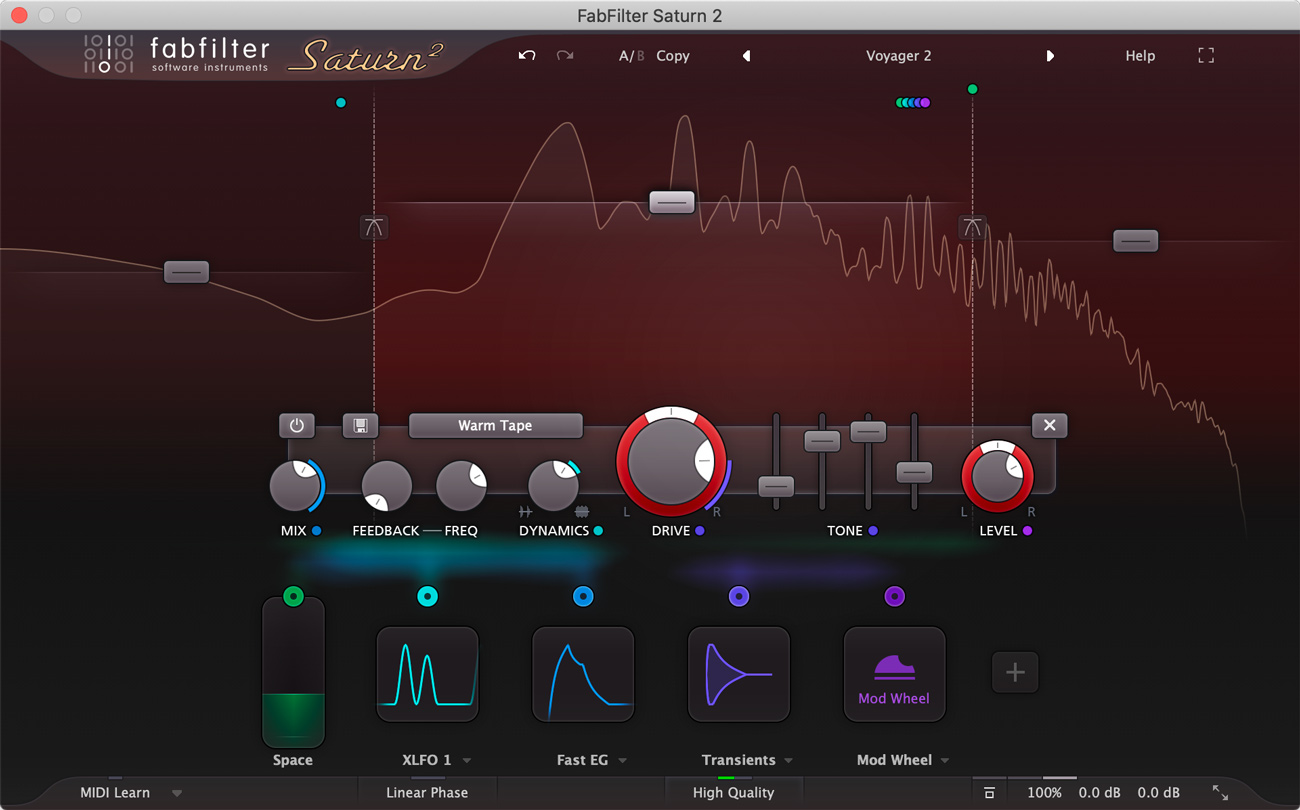 New in Saturn 2
The first thing you will notice when you open Saturn 2 is the brand-new look. We have put a lot of effort into redesigning the interface, making it much more pleasant and efficient to work with. All the goodness of Saturn version 1 is still there of course, but we've added a lot more:
Linear phase mode (for crossover filtering and the High Quality mode), making Saturn's multi-band processing much more suitable for mastering purposes.
Adjustable slope for crossovers, offering 6, 12, 24 and 48 dB/oct options.
Added a 'Superb' HQ mode in addition to the existing HQ mode, which reduces aliasing to an absolute minimum.
Fully redesigned and modernized interface, including a new design of modulation sources and slots.
Modulation visualization for modulation sources and targets.
Introducing four new Amplifier distortion styles, modeled after famous American and British amps.
Introducing three new Transformer distortion styles, from subtle to warm.
Introducing new Foldback and Breakdown FX styles.
Added new subtle versions of Tube, Tape and Saturation distortion styes, more suitable for mastering purposes.
Envelope generators now have a curve slope setting for their attack, decay and release curves, opening up a much wider range of possible shapes, from very snappy and aggressive to gentle and smooth.
Envelope generators and envelope followers can now also trigger on band inputs.
Added Transient mode for envelope followers, which turns them into transient detectors.
Introducing Slider mode and a range setting for XY controllers. In Slider mode, the XY controller only works in vertical direction, taking up much less space. The range setting toggles between bipolar (-1 to 1) and unipolar (0 to 1) behavior.
Increased the number of XY controllers/sliders to 6.
Modulation sources can now be renamed to make their use easier to understand.
The XLFO Balance and Frequency Offset parameters are now modulation targets.
XLFO MIDI triggering now offers a new Legato mode.
The EG Threshold parameters are now modulation targets. In addition, the incoming signal level is displayed in a meter around the Threshold knob, and it's now possible to audition the external side chain input.
The EGs now have an Range setting, toggling between Normal (a range between 0 and 1) and Neutral Sustain (a range around the Sustain level, where EG outputs 0 when it's in the sustain stage).
Introducing full resizing and Full Screen mode.
Other key features
Of course, all the features that make Saturn unique are still there: multi-band distortion processing (up to 6 bands), a large variety of different distortion styles, from subtle saturation to heavy guitar amps and bit crushing, per-band drive, mix, feedback, dynamics, tone and level control, plus tons of modulation options with XLFOs, Envelope Followers, Envelope Generators, MIDI Sources and XY Controllers.
FabFilter Saturn 2 is available in VST, VST3, AU (Audio Units), AAX Native and AudioSuite formats.
Windows requirements

Windows 11, 10, 8, 7 or Vista

64-bit or 32-bit

VST 2/3 host or Pro Tools

macOS requirements

macOS 10.13 or higher (64-bit only)

AU or VST 2/3 host or Pro Tools

Intel or Apple Silicon processor
---
Next: Quick start
See Also
Using FabFilter Saturn 2