About FabFilter Pro-L 2
The limiter is an indispendable tool in modern mastering and mixing, and there are a lot of different flavors available on the market today. Some limiters try to be as transparent and 'safe' as possible, while others are designed to just go loud. One limiter may work best on rock music, while another performs best on electronic dance music.
FabFilter Pro-L 2 is a professional true peak limiter, that combines all these flavors and qualities in one plug-in, making it suitable for any type of music/audio. It can be as transparent as needed, and can go as loud as you want it to go. Equipped with excellent (loudness) metering, true peak limiting, surround support, oversampling and dithering, Pro-L 2 is everything you need in a limiter.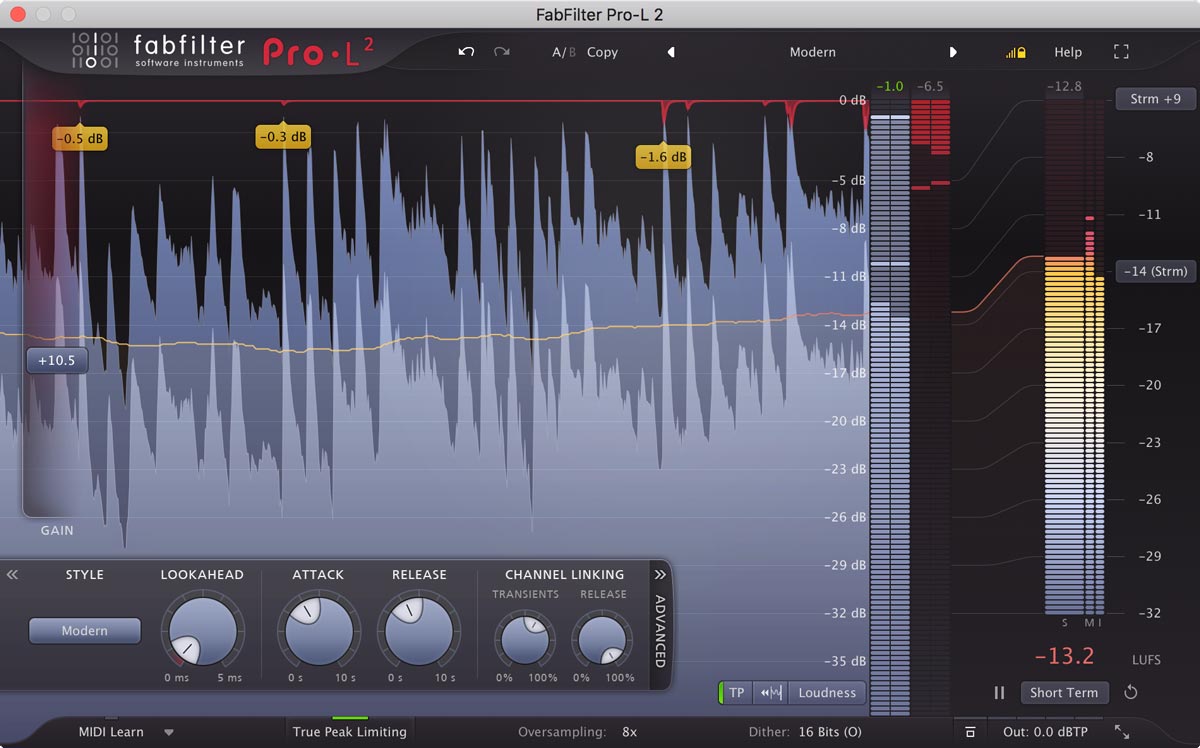 New in version 2
At first glance, FabFilter Pro-L 2 looks quite similar to its predecessor, but you'll soon discover many exciting new features and improvements that have been added to enhance your sound and workflow. Pro-L 2 features four brand-new limiting algorithms, surround processing, true peak limiting, full-featured EBU R128 loudness metering, and much more. Here's a list of the most important new features and improvements:
Four brand-new limiting algorithms: Modern (the new 'best for all' default algorithm), Aggressive (great for EDM/dance), Bus (nice for drums, individual tracks etc; it's not meant to be transparent, rather the opposite), and finally Safe (its goal is not loudness, but to be safe and distortion free at all times).
Immersive audio and surround support (up to 9.1.6 Dolby Atmos), including smart surround channel linking.
True peak limiting. When enabled, the final true peak level won't exceed the specified maximum true peak output level of the plug-in.
Extensive loudness metering (Momentary, Short Term and Integrated), following the ITU-R BS.1770-4 and EBU R128 loudness metering standards (also supporting ATSC A/85 and TR-B32), including true peak metering, LRA measurement, and customizable loudness meter scale and target levels.
Up to 32x oversampling.
New display modes with peak labels to show moments of high gain reduction.
Optional DC Offset filtering.
Optional external side chain triggering, useful for stem mastering.
Unity Gain option, to easily listen to the effect of the current limiting at unity gain level.
Audition Limiting option, to listen to the applied gain change (i.e. 'delta' signal) only.
AudioSuite 'Analyze' option in the Pro Tools AAX plug-in to analyze audio at current limiter/metering settings without rendering.
Lots of new factory presets.
Other key features
And of course, all the goodness of the original Pro-L is still there: highest possible sound quality and transparency, adjustable look-ahead, attack and release settings, separate channel link settings for transients and release, dithering with three different noise shape settings, accurate and insightful metering with various meter scales, GPU-powered graphics acceleration, double-click text entry of parameter values, Pro Tools hardware control surfaces support, MIDI Learn, undo/redo and A/B comparison, extensive help file with interactive help hints.
Upgrading to Pro-L 2
Upgrading from Pro-L version 1 to the new Pro-L 2 is safe and easy: installing Pro-L 2 will not replace or delete the previous Pro-L 1 plug-in. Both versions will co-exist and can both be used at the same time. This ensures that you can open old songs that use Pro-L 1 without problems! Of course, FabFilter Pro-L 2 opens all presets from Pro-L 1 without problems. See Upgrading to Pro-L 2 for more information.
FabFilter Pro-L 2 is available in VST, VST3, AU (Audio Units), AAX Native and AudioSuite formats.
Windows requirements

Windows 11, 10, 8, 7 or Vista

64-bit or 32-bit

VST 2/3 host or Pro Tools

macOS requirements

macOS 10.13 or higher (64-bit only)

AU or VST 2/3 host or Pro Tools

Intel or Apple Silicon processor
---
Next: Quick start
See Also
Using FabFilter Pro-L 2
Acknowledgements