About FabFilter Pro-C 2
There is one signal-processing tool that is almost impossible to do without in any form of audio recording or post-production: compression. Compression is available in a wide variety of different formats, flavors, designs and degrees of quirkiness.
FabFilter Pro-C 2 is not just a good sounding compressor. FabFilter Pro-C 2 is a superb stereo compressor with all the tricks up its sleeve that you will ever need. With its different compression styles and options like mid/side compression and side-chaining with optional EQ filtering, it can work in any desired way. Whether mastering or mixing, Pro-C 2 will do the job with lots of style.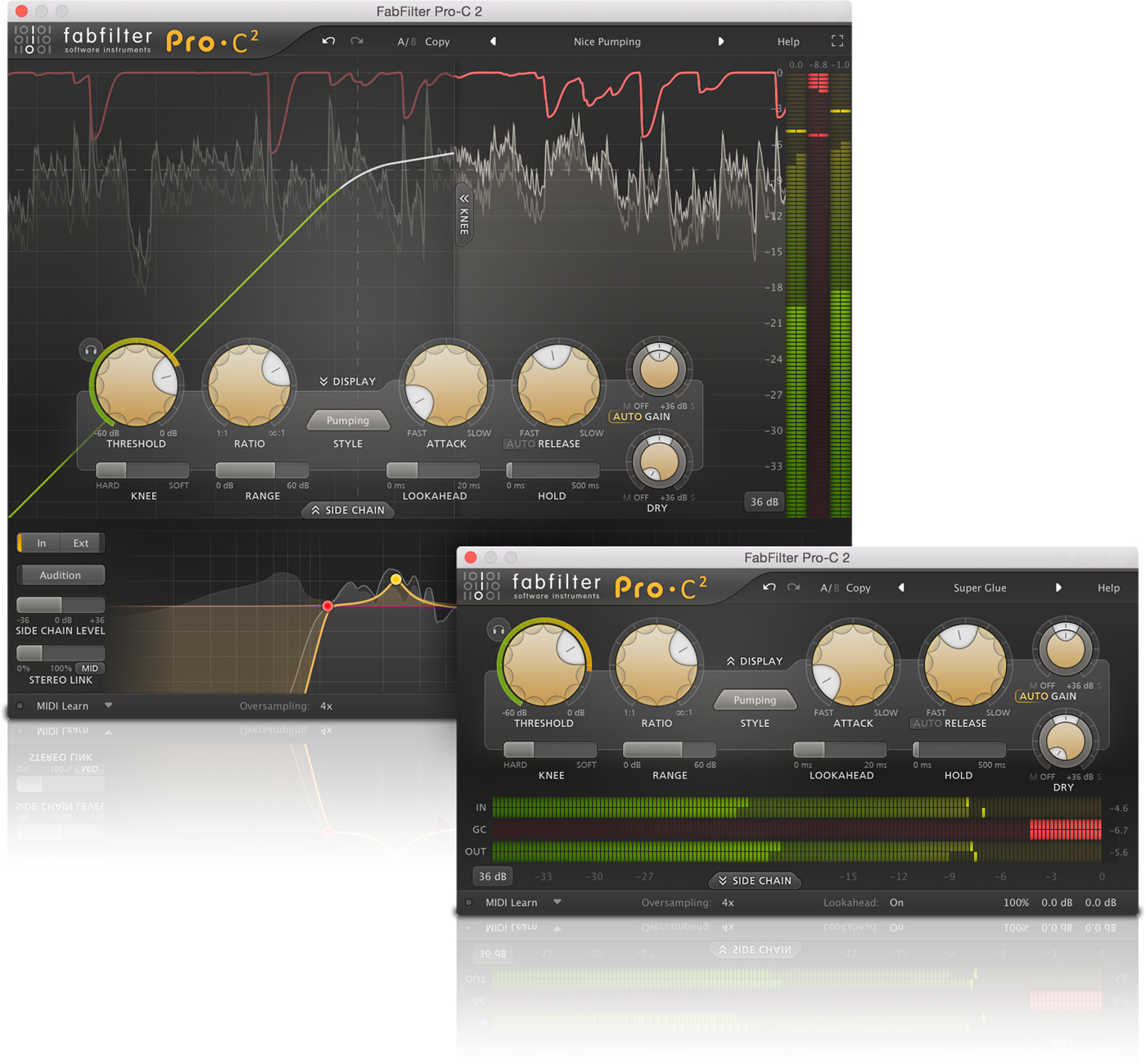 New in version 2
When you open Pro-C 2 for the first time, you'll notice right away that it has a brand new look. With its gorgeous, resizable interface, optional level display, knee display and side-chain EQ controller, it can either take the form of a classic, straightforward analog compressor, or present itself as a modern allround compressor with extensive metering and controls. It's up to you!
Of course, apart from the new look and feel, we've also added many often-requested new features. Most importantly, FabFilter Pro-C 2 introduces five brand new compression styles, in addition to the three original v1 styles. With their unique characteristics, it's like getting five brand new compressors!
But of course, it doesn't stop there. We've implemented a ton of other improvements:
Introducing Lookahead (up to 20 ms), which can be enabled/disabled as well to ensure zero latency processing.
Introducing Hold (up to 500 ms).
Introducing custom Knee, variable from hard knee to a 72 dB soft knee, which enables you to achieve saturation-like compression effects.
Introducing Range setting, which limits the maximum applied gain change.
Introducing Mix, which scales the gain change from 0% to 200%.
Introducing up to 4x Oversampling.
Simplified and improved side-chain stereo handling, introducing variable stereo linking with mid-only, side-only, M>S and S>M processing.
Introducing side-chain EQ section, with customizable HP and LP filters, plus an additional freely adjustable side-chain filter (Bell, Low Shelf, High Shelf, Band Pass, Notch or Tilt).
Fully redesigned user interface, including optional knee and level displays with a variable range from 9 dB to 90 dB.
Introducing Full Screen mode, offering a large level display and side-chain EQ controller.
Extended Threshold range to -60 dB.
Introducing Audition Triggering option, to be able to hear on which parts of the audio Pro-C 2 is triggering and how much compression is taking place.
Introducing multiple interface sizes: Small, Medium and Large.
Introducing MIDI triggering. If MIDI is enabled, the compressor is triggered when you hit any key on a connected MIDI keyboard controller.
Highly improved level meters, with peak and loudness level visualization. The loudness level complies with the Momentary mode of the EBU R128 / ITU-R 1770 standards.
Introducing Retina support on macOS and High DPI support on Windows.
Upgrading to Pro-C 2
Upgrading from Pro-C version 1 to the new Pro-C 2 is safe and easy: installing Pro-C 2 will not replace or delete the previous Pro-C 1 plug-in. Both versions will co-exist and can both be used at the same time. This ensures that you can open old songs that use Pro-C 1 without problems! FabFilter Pro-C 2 opens presets from Pro-C 1 without problems, but note that the resulting sound can be different, because of fundamental changes and improvements in Pro-C 2. See Upgrading to Pro-C 2 for more information.
FabFilter Pro-C 2 is available in VST, VST3, AU (Audio Units), AAX Native and AudioSuite formats.
Windows requirements

Windows 11, 10, 8, 7 or Vista

64-bit or 32-bit

VST 2/3 host or Pro Tools

macOS requirements

macOS 10.13 or higher (64-bit only)

AU or VST 2/3 host or Pro Tools

Intel or Apple Silicon processor
---
Next: Quick start
See Also
Using FabFilter Pro-C 2