FabFilter Pro-Q 3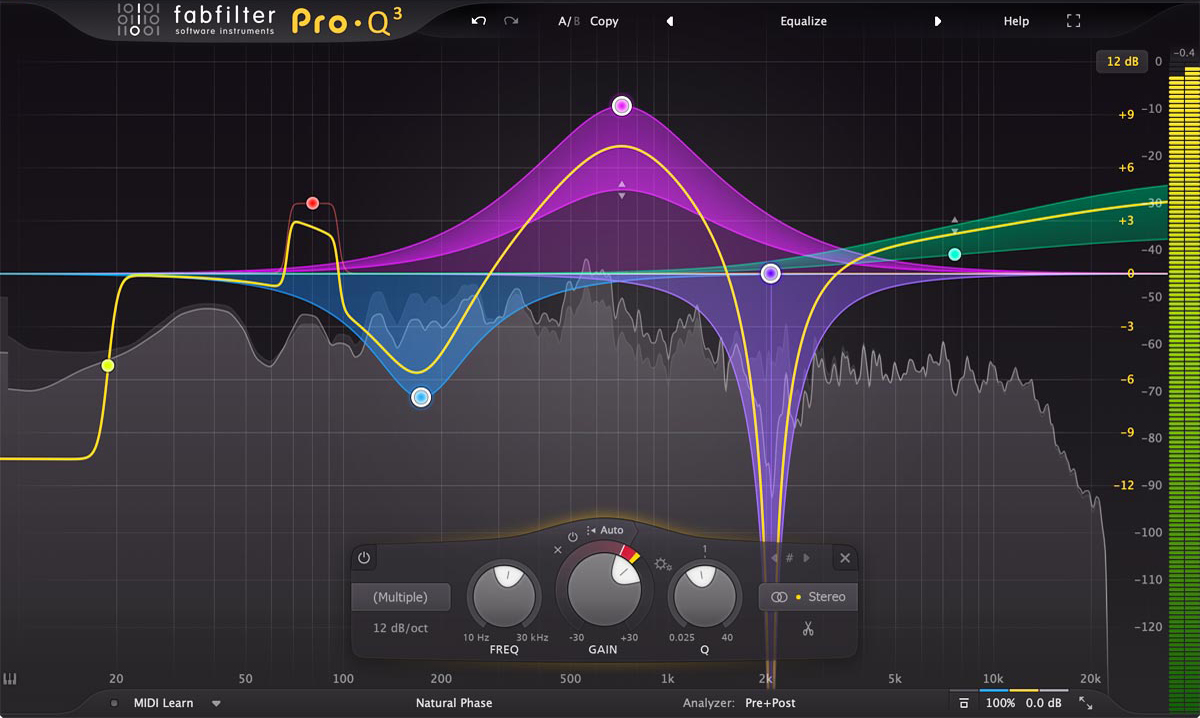 The most extensive and powerful software of any EQ available... it's absolutely remarkable. If you're looking to upgrade your EQ skills, seriously, look no further. Verdict: 10/10!
Pro-Q 3 is a wonderful update to an (arguably) already class-leading equalizer. The best just got better! Verdict: 10/10!
Pro-Q 3 is unarguably one of the finest EQ plug-ins around. [...]. Outstanding! Verdict: 10/10!
Pro-Q 3 represents almost as monolithic a milestone as its predecessor did Verdict: 10/10!
FabFilter Pro-Q is sure to be the first plug-in we add to almost every channel on every mix we do for the next few years. Absolutely brilliant! Verdict: 10/10!
In Natural Phase mode, the bottom end has enough weight to stand up alongside any Pultec-clone/emulation, while the top-end is so smooth that it is easy to boost here without much of the harshness that is often associated with digital EQs. Verdict: 10/10!
For all the eye-catching new features in Pro-Q, it's the ease-of-use, and great sounding results that make us keep coming back to this over many of our other EQs. Verdict: 10/10!
I'd say FabFilter easily is the "King of EQs". Now stop fumbling around with other EQs and just go and get a trial of FabFilter Pro-Q. You'll see exactly what I'm talking about. Verdict: 10/10!
Audio processing tools just don't get better than this. Verdict: 10/10!
Spectrum Grab really is an astoundingly clever and well-executed feature. Verdict: 10/10!
Even without Spectrum Grab, Pro-Q is amazing, but with it, it's unstoppable. Verdict: 10/10!
Possibly the best EQ plugin on the market. Verdict: 10/10!
FabFilter Pro-Q is practically impossible to fault, being absolutely stunning in terms of usability, functionality and sound Verdict: 10/10!
[Pro-Q is] a brilliantly designed, gorgeous-sounding EQ plug-in that will quickly become a staple of your music production process. Verdict: 10/10!
With its spot-on sound and wonderful interface, Pro-Q is up there with the best EQs money can buy. Verdict: 9/10!
FabFilter Pro-Q 3 is a pleasure to use. Not only does it sound clean and precise. FabFilter excels in how quick and easy the plugin is. Verdict: 5/5!
FabFilter Pro-Q 3 has become the preferred equalizer for mixing professionals around the world.
It sounds good, it's amazingly flexible, and best of all, its graphical interface makes it a joy to use.
I'm not sure if there is such a thing as a desert island EQ plug-in, but if I was stranded on a Pacific atoll with only one tool to tackle problematic audio files, FabFilter's Pro‑Q 3 would be that tool.
With Pro-Q 3, FabFilter has taken an already fantastic plug-in and improved it well beyond a point that I ever thought was possible!
The FabFilter Pro-Q - one of the best eq plugins I've ever used, its a great tool for more precise editing and eq-ing.
FabFilter Pro-Q is the first plug-in I have owned where I feel like as much programing effort was put into the user workflow experience as the sonic quality. It's amazing!
FabFilter Pro-Q is fast, elegant, precise and clean. Exactly what I need to sculpt Pop and RnB vocals.
FabFilter Pro-Q has one of the best GUIs of any EQ out there and sonically compares to the best.
FabFilter Pro-Q is fast, elegant, precise and clean. Exactly what I need to sculpt Pop and RnB vocals.
FabFilter Pro-Q has one of the best GUIs of any EQ out there and sonically compares to the best.
If you're serious about great-sounding, flexible EQ, this is a significant update and mix and mastering engineers alike should take note.
Through its feature set and tactile interface, Pro-Q blends precision with musical, natural tone shaping.
[...] the natural phase is the cleanest, most accurate sounding of the EQs – capable of mastering quality EQ. To me, the sound quality was exceptional.
[...] the only reason to walk on by is if you're completely broke.
Pro-Q is far and away better than all DAW EQs, and probably outruns most other 3rd party parametrics.
It sounds great, it looks great, and it does everything you could possibly want from an equaliser. What's not to like?
[FabFilter Pro-Q's] improvements make an already brilliant user interface even better.
[...] Pro-Q is just brilliant in the low end. Well done.
The Pro Q-2 is a forward thinking plugin that boldly takes the concept of an EQ to a new level. It does all you can think of and more. It is a very inspiring tool to use.
FabFilter has taken precision to a whole new level with Pro-Q
FabFilter Pro-Q is most excellent and will be the most used EQ in any arsenal.
Pro-Q is one of the best-sounding EQ plug-ins I've heard to date, especially when used on acoustic instruments.
The sound [of Pro-Q] is pristine and precise yet decidedly analog-like in its sweetness and dimension.
[Pro-Q is] in a similar bracket to some of Waves' EQs, it sounds at least as good, but it looks a lot nicer, has more options and is more intuitive.
Crucially, [Pro-Q] sounds gorgeous. Getting instant control over your EQ is a breeze, and sweetening or taming any track is practically effortless.
Not only is [Pro-Q's] interface slick, smooth and a joy to use, it actually makes you feel like using it because it's so straightforward.
[Pro-Q is] really smooth and it's replete with clever, thoughtful little nuances to help you out.
Pro-Q looks deceptively basic at first, but its smooth and uncluttered interface conceals a powerful feature set.
Not only is [Pro-Q's interface] crystal clear, but it offers tremendous levels of control.
In a review full of positives, there is one element of Pro-Q that really stands out, and that is its interface.
[If] you're in the market for a great-sounding EQ with a superb interface, you won't want to miss this gem.
[Pro-Q's] awesome interface makes it more practical and effortless to use than pretty much any EQ we've tried.
The range of modes and great sound make [Pro-Q] ideal for jobs requiring great fidelity, such as mastering and acoustic instrument processing.
Pro-Q can work in mono, stereo or mid/side modes, and FabFilter's novel implementation is characteristically slick [...]
From the uncluttered interface and easily legible typefaces to the neat colour contrasts and smooth edges, Pro-Q is visually clear and radiates solid reliability.
FabFilter Pro-R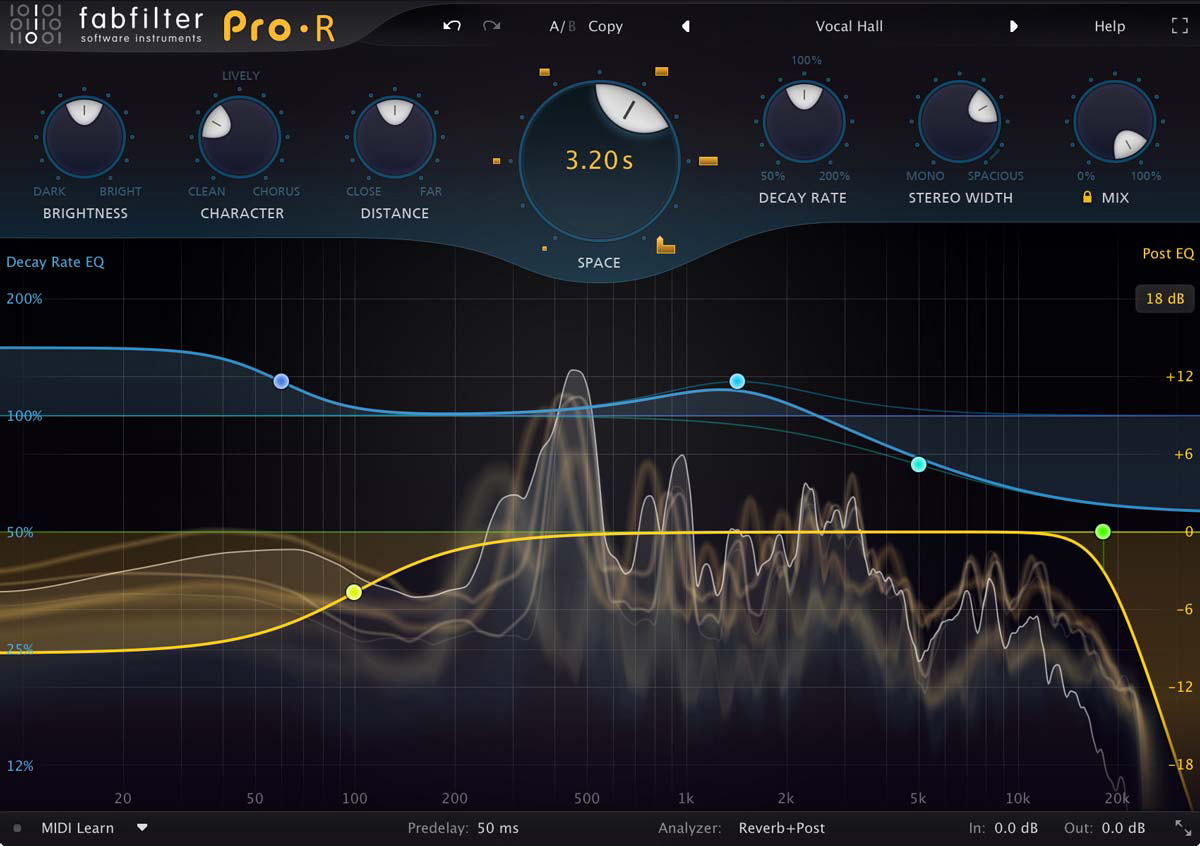 In operation I found FabFilter Pro-R to be absolutely brilliant. [...] One of the easiest to use, powerful reverb plugins on the market. The interface is laid out perfectly and dialing in the perfect space is a breeze. Verdict: 9/10!
Pro-R sounds awesome and is hugely enjoyable and rewarding to work with. Verdict: 9/10!
[FabFilter] Pro-R sounds awesome and is hugely enjoyable and rewarding to work with. Verdict: 9/10!
Sonically, Pro-R is rich and evocative, equally at home generating super-sized Hollywood-style staging as it is airy, intimate vocal treatments. Verdict: 9/10!
[FabFilter] Pro-R is an excellent studio reverb with a sound and flexibility that belie its almost non-existent learning curve. Verdict: 9/10!
[...] almost everything about it says 'I am easy to use', and, this is very much the case. Verdict: 5/5!
FabFilter Pro-R gets professional, top quality results straight off the mark. In the time you would spend scrolling through potential IRs, you would have the perfect reverb done for 20 tracks with this. Verdict: 5/5!
Pro-R's enormous versatility is probably its most remarkable aspect and it can will pretty much any territory (or any 'space' to be precise) in very satisfactory manner. Verdict: 5/5!
Once again FabFilter delivers a plug-in that's easy and incredibly intuitive to use, thanks to its clever design and also because of the outstanding interface which is a FabFilter trademark. Verdict: 5/5!
[FabFilter Pro-R is a] Fantastic sounding plug-in as we come to expect from FabFilter! Verdict: 5/5!
FabFilter's take on reverb is nothing short of amazing! Verdict: 5/5!
Pro-R is yet another demonstration of the worth of FabFilter's distinctive vision for plug-in design
Wow! [FabFilter Pro-R produces] some of the most realistic room tones I've ever dialed in within seconds of using it. I'm a reverb junkie and this plugin is definitely a game changer. Mixing with it as we speak!
I believe FabFilter Pro-R is truly ground breaking! You guys have revolutionized audio plugins. I can't wait to see what's next!
It's as simple to use as the most basic reverb plug-in [...] yet has a sound and range that plug-ins with tens of hundreds of editable parameters struggle to match.
Pro-R is yet another demonstration of the worth of FabFilter's distinctive vision for plug-in design.
The quality of the reverbs are pristine and are easily shaped into anything between spaces such as tiny wooden rooms to enormous cathedrals.
I have instantly fallen in love [with Decay Rate EQ and Tempo Sync Predelay] with as they let me shape the reverb in ways I've not been able to do before in any other reverb plug-in.
I feel as though FabFilter have given us only the reverb controls we'll actually need rather than pages of controls that we'll never use.
I like the way the plug-in looks, the way it sounds... very very cool plug-in!
It's a really great take on space. I'm not even going to call it a reverb, it's a space plug-in.
Beautiful! I wish I'd had this when I finished this mix.
FabFilter Pro-L 2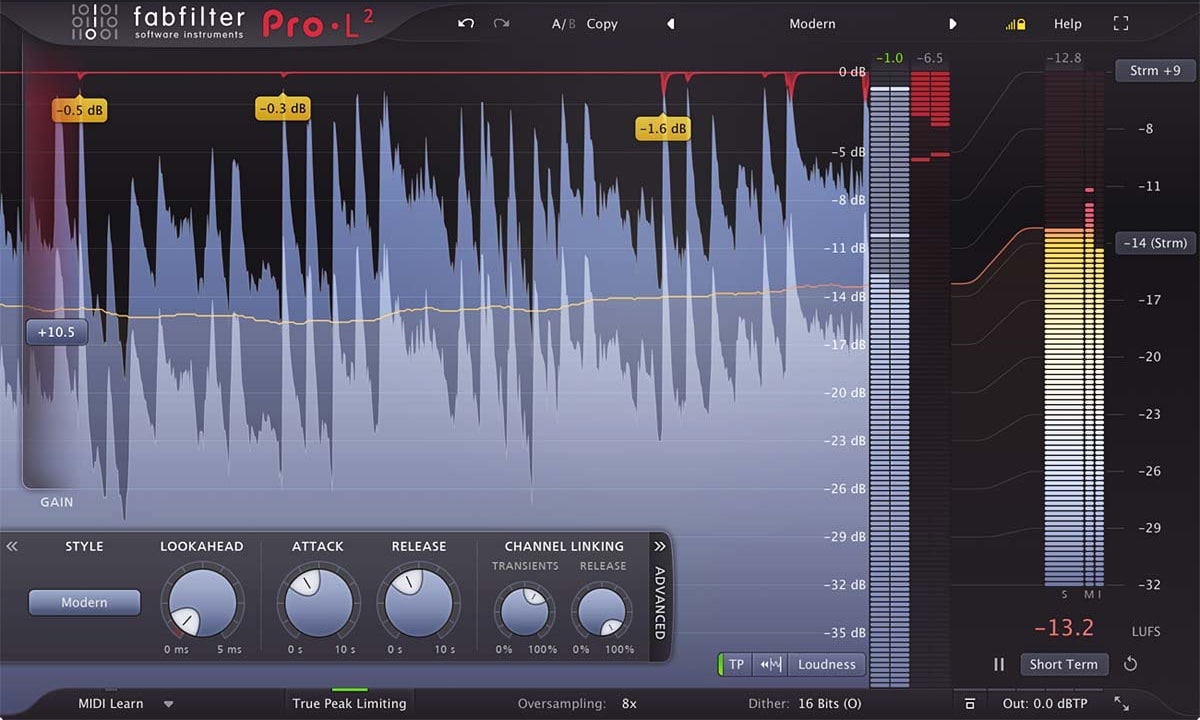 FabFilter Pro-L 2 is an incredible achievement. It's a clear improvement on a limiter we had already given full marks to, and as such easily deserves to be in your arsenal, whether for mixing or mastering. Verdict: 10/10!
Not only did the limiting algorithms [of FabFilter Pro-L 2] each sound superb, but the graphical interface made using the Pro-L incredibly simple and enjoyable. Verdict: 10/10!
One of the best, most versatile and most popular limiters around just got even better. Verdict: 10/10!
[FabFilter Pro-L is] an amazing sounding plug-in that's easy to use but offers professional results. Verdict: 10/10!
FabFilter Pro-L is another Triumph for FabFilter: easy to use and with valuable visible feedback to help you understand both how to use it and how your changes are affecting the signal. Verdict: 10/10!
[FabFilter Pro-L] (...) is a very special dynamics processor that's suitable for just about any type of music. Verdict: 10/10!
As for sound quality, [FabFilter] Pro-L is everything you could hope for in a limiter. It's transparent when you want it to be, and it goes as loud as any other limiter we've used. Verdict: 10/10!
[FabFilter Pro-L offers] a slick, visual twist on brickwall limiting, with famously fantastic FabFilter sound quality to back it up. Verdict: 10/10!
[FabFilter Pro-L 2 is] A thoroughly modern limiter [...] a very effective and ergonomic workflow.
[FabFilter Pro-L 2] performed extremely well on everything I threw at it, [...] I found it one of the most efficient limiters [...].
FabFilter Pro-L is an all-Star product.
I will also tell you this one secret, listen closely. If you are in the market for a workhorse limiter that will keep all your transients intact, make your tracks big, loud and full, and magically doesn't squash anything, stop looking and get the FabFilter Pro-L. Now.
I fell in love with the Pro-L right away with its incredible sound and intuitive interface. Then, when I dove deeper into the 'advanced' settings, it was case closed.
The FabFilter Pro-L Limiter sounds awesome - clean and very punchy
[FabFilter Pro-L] is my most versatile limiter, I use it everyday!
I've been using FabFilter Pro-L for a while now and have to say it's fantastic. It really compliments the sound of much of the analogue gear in my room. A great addition to the Metropolis armoury
Like everything from FabFilter, [Pro-L's interface] is simply gorgeous
I must say that I am very impressed at what Fabfilter Pro-L has to offer. It can go further then what I have experienced with other limiters and it offers a great variety of options in terms of actual limiting and sounds plain great!
FabFilter Pro-C 2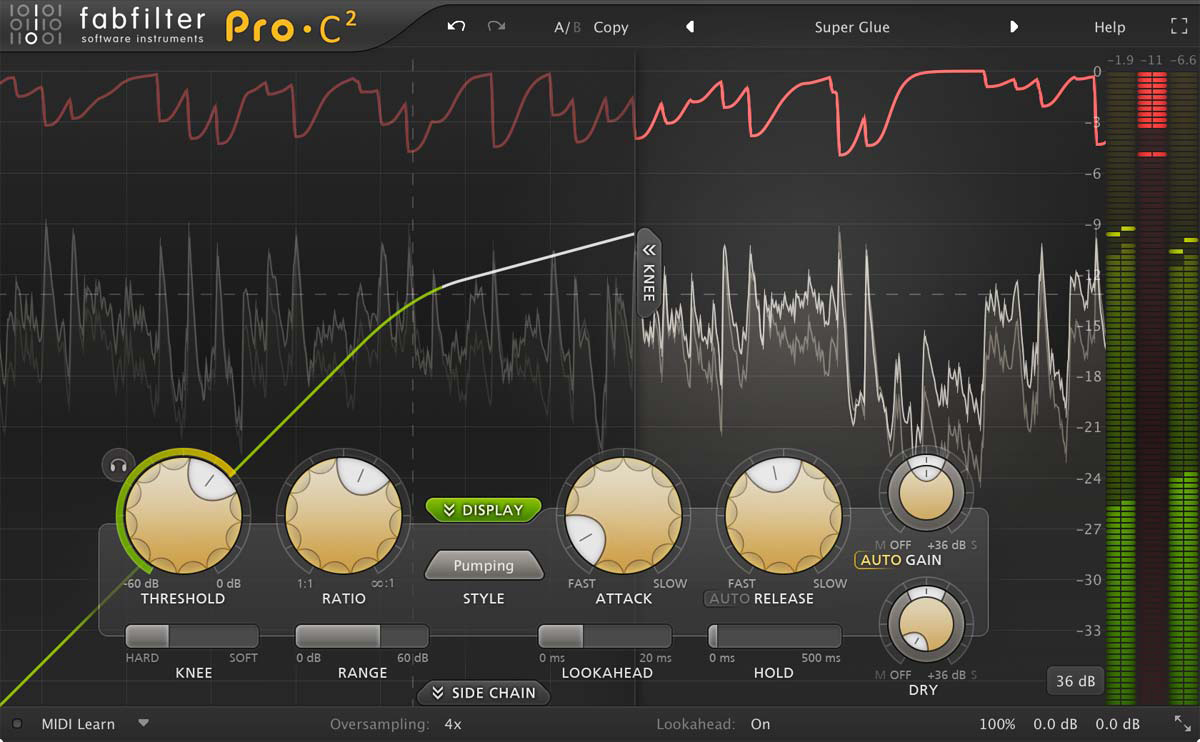 Pro-C 2 is set to become a staple of many professionals' toolkits. Everyone needs a good compressor, and there are few as good as this. A future classic. Verdict: 10/10!
There is pretty much isn't anything you can't do with Pro-C 2. [...] FabFilter has truly made a powerful compressor that spans all user levels and music styles. Verdict: 9/10!
This is the first compressor I've seen that lets you trigger compression from MIDI note-ons. It's definitely a cool feature. You could 'play in' the compression as MIDI notes on the track controlling Pro-C 2. Verdict: 9/10!
Pro-C 2 is like having multiple compressors in one. With eight different compressor types, flexible display options, and all the parameter control you could ask for, it's a superb product. Verdict: 9/10!
Without a doubt! It's the ultimate multipurpose, feature-packed, clean sounding compressor plugin. Whatever you need, there's a way the FabFilter Pro-C 2 can handle it. Verdict: 5/5!
I always use the sidechain compressor of FabFilter [Pro-C 2], of all the compressors I feel it has the best sound.
New features make this a stunning plug-in compressor with as much flexibility/capability as you'll need.
From its excellent sound quality to its extensive feature set and in- formative interface, the Pro-C 2 is a must-have dynamics processor.
Pro-C 2 rocked my world in a similar fashion. It's an absolute triumph of both UI design and DSP coding, and it makes tweaking a channel's dynamic range a joy!
Combining industry-best real-time display, up to 4x oversampling for buttery smooth audio, eight compression modes for a range of situations, an adjustable mix amount up to 200% for unique automation control, and impressive CPU efficiency, C2 makes a strong case to be your go-to single-band dynamics processor
The amazing sound of the FabFilter Pro-C have pushed it to the top of my first-call compressor list!
The new FabFilter Pro-C 2 is fantastic and gives me access to parameters that I've been missing from my favorite analog drum compressors.
The way the Pro-C shows you the compression is ingenious. All of the FabFilter plug-ins seem to be designed to be simple to use and easy to get results while sounding incredible.
Both the sound and design are a proof of FabFilter's love for detail.
I would recommend the Pro-C to anyone who is looking for an all-round compressor.
If the Holy Grail of software compression is that obscure thickness and warmth that we all crave, then we'd better get on the phone to Indiana Jones, because Pro-C is a strong contender!
It's fair to say that whether you're a compression freshman or a professor of pump, you'll surely give Pro-C full marks.
[Pro-C's] smart level display [...] makes a mockery of the average compressor's simple VU meters, making using compression easier then ever.
The Pro-C is practically faultless, being suitable for users of all levels, and able to turn its hand on any type of material. It's top class!
FabFilter Pro-MB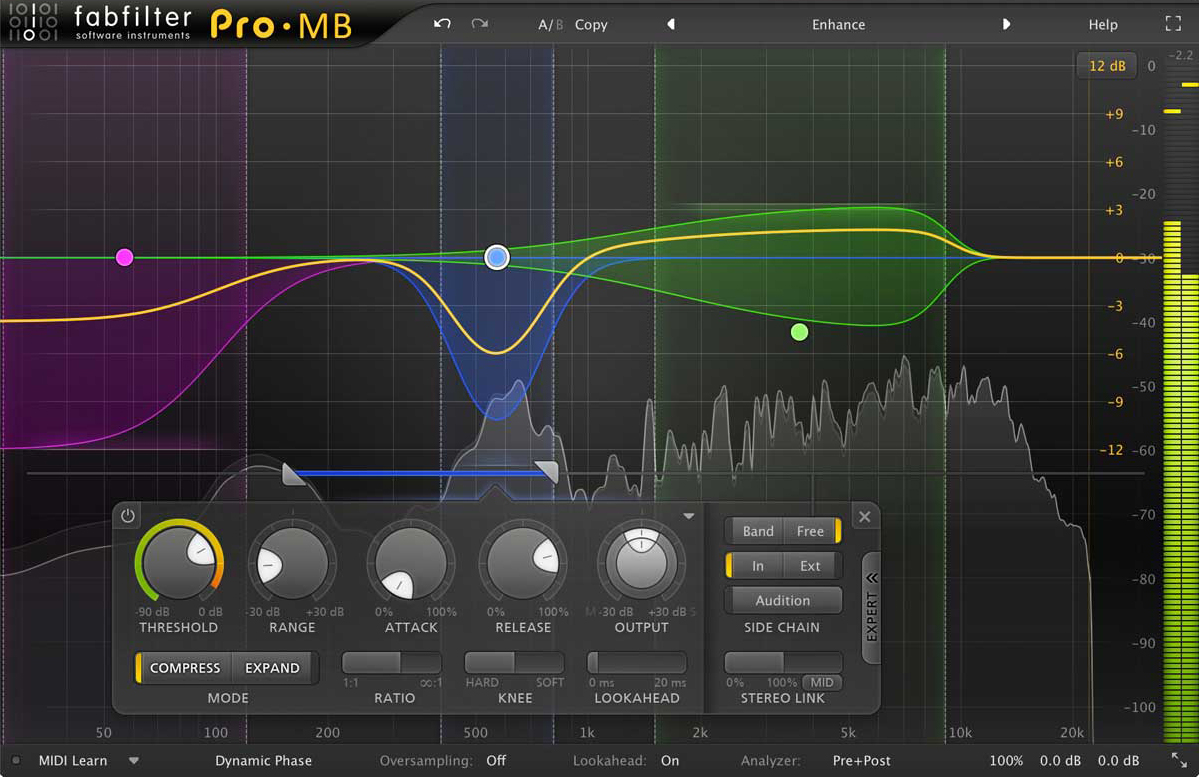 Not only does it look and function great, it sounds great. The stigmata of multiband dynamics has been conquered. All hail FabFilter! Verdict: 10/10!
[FabFilter Pro-MB is] an incredibly powerful and easy-to-use tool that we'll be using on every track from now on. Verdict: 10/10!
FabFilter has combined the ideas and experience gleaned from the last few years of developing plug-ins and created another classic [FabFilter Pro-MB]. Verdict: 10/10!
The excellent visual feedback [in FabFilter Pro-MB] combined with the Dynamic Phase mode mean you can make accurate adjustments that sound natural and transparent, whether you're working on a single instrument channel or mastering an entire track. Verdict: 10/10!
[...] it's the fluidity, ease of use and exceptional sound quality that make [FabFilter] Pro-MB such a great asset. Verdict: 10/10!
Making multiband compression/expansion easier and more flexible than ever, FabFilter Pro-MB is beautifully designed and sounds superb. Verdict: 9/10!
The sound of Pro-MB is amazingly transparent, especially in the default Dynamic Phase mode. Verdict: 9/10!
The Pro-MB is a great multiband compressor but also a great expander, for example for adjusting your low end on the master.
FabFilter Pro-MB is hands down the most versatile multi-band dynamics processor ever. I love it!
The response [to FabFilter Pro-MB] was so overwhelming positive, that FutureMusic have given the Pro-MB a 90% Power Rating and awarded it as the Gear Of The Year in the Dynamics Processing category.
FabFilter Pro-MB is well executed on every level from the intuitive and attractive interface, to the brilliant sound quality.
The clean, readable Pro-MB interface presents an unrivaled amount of band-specific control over the dynamics process and the conditions that trigger it.
[FabFilter] Pro-MB is definitely my new standard for judging feature set and usability in multi-band compressor plug-ins.
[...] Pro-MB is gorgeous, its slick and translucent interface a joy to work with.
[FabFilter Pro-MB is] a joy to use, capable of everything from gentle taming to extreme pumping.
[FabFilter] Pro-MB is the most intuitive and powerful multiband compressor I have ever used.
Inasmuch as it's possible to make a multi-band compressor that is a joy to use, FabFilter have done so.
FabFilter's claims for their Dynamic Phase technology are well founded, because no matter how much you chop up the frequency spectrum, Pro-MB is completely inaudible unless it's actually compressing or expanding. And when it is compressing or expanding, it does so with a smoothness and agility that I haven't heard in any comparable product.
The transparency with which you can gently stabilise the tonality of a source, or nudge it in a particular direction, is highly impressive.
With the exception of very simple designs that are lacking in features [...], I have never come across a multi-band plug-in that is so straightforward to set up.
FabFilter's Pro-MB makes the task of dealing with these problems as painless and transparent as it could possibly be, and unless you're lucky enough to be dealing with perfectly recorded sound all of the time, I suspect there'll be a place for it in most people's plug-in folders.
[FabFilter Pro-MB is] more versatile than a conventional multi-band compressor, yet less complex to use.
FabFilter Pro-DS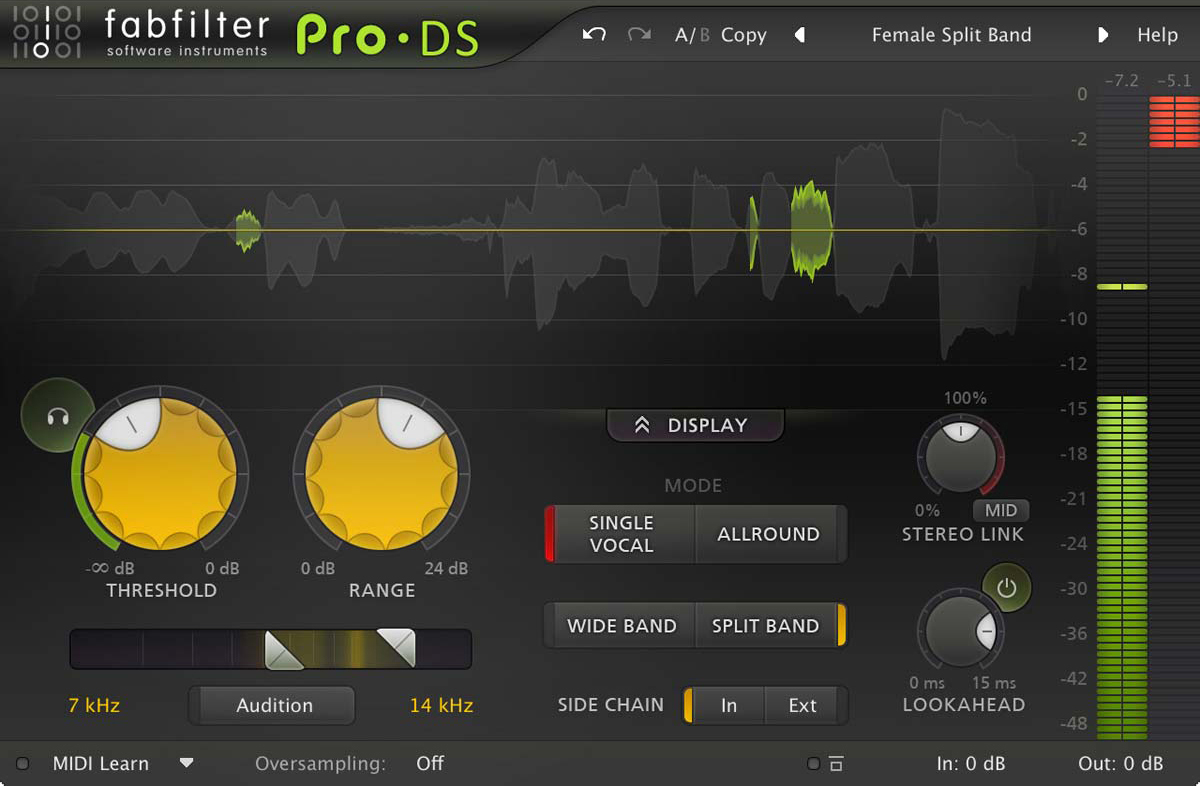 FabFilter Pro-DS sounds very natural. Verdict: 10/10!
We were recently given a song with plenty of sibilance to master, and FabFilter Pro-DS handled it brilliantly. Verdict: 10/10!
Incredibly easy to use, great visual feedback. Verdict: 10/10!
Anybody who regularly deals with vocals certainly won't regret investing in it [FabFilter Pro-DS]. Verdict: 10/10!
You only need to throw the plug-in [FabFilter Pro-DS] across a vocal channel or your master output and dial in some settings to hear the algorithms work perfectly. Verdict: 10/10!
If you need a de-esser, you'll sssstruggle to find better than FabFilter's utterly comprehensive solution [Pro-DS]. Verdict: 10/10!
[FabFilter Pro-DS] sets a new standard in terms of power. Verdict: 10/10!
Loved it [FabFilter Pro-DS] the first time, and it's been on every mix since.
FabFilter Pro-DS literally is the best de-esser I've ever used. I'm extremely aware of vocal sibilance. Since discovering Pro-DS the worry of dealing with any level of vocal sibilance has vanished.
FabFilter Pro-DS is my new favorite vocal de-esser. [...] The intelligent detection and transparency of the plug-in is second to none and again the interface is beautiful and efficient.
FabFilter Pro-DS is up there with the best, and has by far the best user interface of any I've tried.
When I tried it [FabFilter Pro-DS] on a female vocal that needed just a little taming, it gave the most natural results of any plug-in I had available.
[FabFilter Pro-DS is] one of those plug-ins you can treat as set-and-forget, doing its job as invisibly as anything I've encountered.
The visual feedback you get from FabFilter Pro-DS is far better than any competing product I know of, and makes it an absolute pleasure to use.
De-essing with FabFilter Pro-DS is simplicity itself.
[FabFilter Pro-DS] was the simplest purchase ever. In the first minute of demo I realized that it is in a league of its own. It stomps all over every other software or hardware de-esser. I mean I could say it sounds like automating esses and you set it up in a second. Real timesaver!
As always, [with FabFilter Pro-DS] FabFilter coupled a beautiful and functional GUI that is laid out perfectly with excellent visual feedback.
Just tried [FabFilter Pro-DS] for two minutes on a siblant mix I had laying around and the results were astonishingly good. This is a definite buy.
[FabFilter Pro-DS] is really top-notch, I can't really hear it mess with the source material whatsoever. Did a quick comparison with some other stuff, and there isn't even a contest.
Very impressed by the quality [of FabFilter Pro-DS] after trying the demo. I can't remember if I ever heard such a good de-esser. Just listen how it does its job also on full mixes without affecting anything else.
[FabFilter Pro-DS] isn't your average de esser... this does some critical work as opposed to other plug-ins. Completely different beast and WAY worth the price. FabFilter keeps knocking it outta the park!
I used [FabFilter Pro-DS] last night on (ironically) one of the most sibilant vocals I ever had to edit (I did not record it) and this plug smoothed it out instantly.
I tried the demo [of FabFilter Pro-DS]. Amazing and worth every penny. First de-esser I've tried that doesn't have a 'de-esser sound'. Totally transparent, and Single Vocal mode does great job finding the esses and leaving all the rest untouched!
FabFilter Pro-G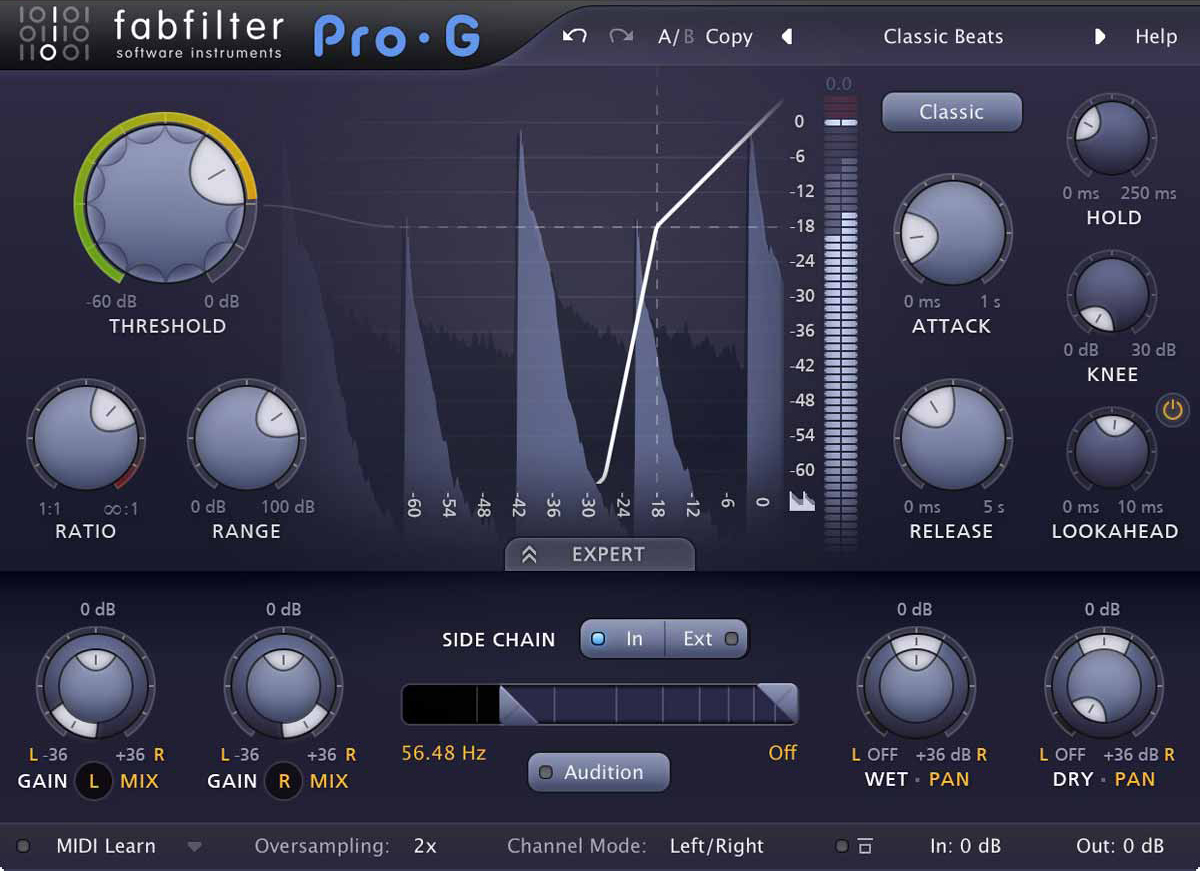 we use FabFilter Pro-G on literally EVERY project we work on in the studio. We absolutely love the animated compression display!
FabFilter's slick, innovative interfaces make FabFilter Pro-G a joy to use, [...]. For pros and beginners alike, Pro-G is a superb tool!
FabFilter Saturn 2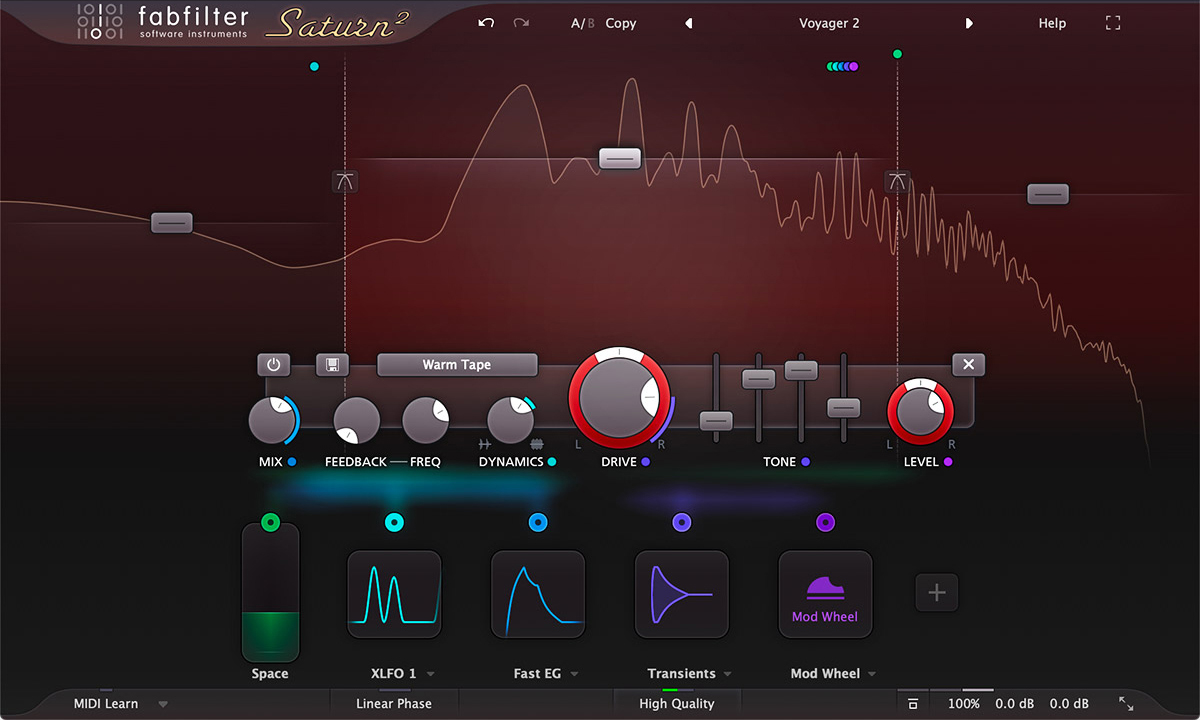 As saturation plug-ins go, FabFilter Saturn 2 is far more capable than its run-of-the-mill effects competitors. Verdict: 10/10!
While [FabFilter Saturn 2's] credentials are assured if you require just a little warmth on the backend of your mix or as a full-on cruncher for your more gnarly productions, it's got the creative potential to allow the distortion to become a sequenced part of your track. Verdict: 10/10!
[FabFilter Saturn 2 is] very versatile and at a price point which is not just sensible, but frankly a bit of a steal. Verdict: 10/10!
I've found a plugin I can't live without. There's not one single type of instrument that can't benefit in some way by having some Saturn on it. [...] Whether you're looking for a subtle push in the mix or all out audio destruction, Saturn has you covered. Verdict: 9/10!
After playing with FabFilter Saturn for one minute it's decided: this thing is gold!
FabFilter Saturn is my new favorite plug-in. I love distortion and I'll put it on everything from vocals to 808's.
I can't think of another plugin that offers 6 bands of separate distortion, and on top of that provides enough modulation power to affect every parameter of every band! Blimey.
FabFilter Saturn [...] has proven to be a very versatile and great-sounding distortion plugin.
This is a terrific plug-in for both sound design and adding grit and girth to [...] instruments and drums.
For overall distortion and sound design, FabFilter Saturn is highly recommended!
No matter what type of distortion you go for with [FabFilter] Saturn, it always maintains a creamy and 'producer' sound.
Despite all its power, [FabFilter] Saturn couldn't be easier or more fun to use.
The quality of the algorithms [in FabFilter Saturn] is palpable: the amps, tubes and tape types feel suitably 'real' but more sonically interesting than most, and the movement and 'funk' that can be imposed on them is nothing short of dazzling.
Even as a single-band unit, Saturn does a stunning job of saturating and distorting any source thrown at it.
Just using the basic controls and distortion types, [FabFilter] Saturn puts in an incredible performance.
We tested FabFilter Saturn on a wide range of material, from dance kick drums to pianos and vocals, and we were gobsmacked by the number of applications that we found for it!
Saturn is FabFilter's most essential efforts yet - and considering the rest of their range, that's really saying something.
After a few moments with FabFilter Saturn, you realize that it's so much more than just a mixing processor.
We can't imagine being without [FabFilter Saturn].
From de-essing to exciting, transient shaping to adding grit, stero widening to multiband compression and much more, Saturn does it all, and exceptionally well.
FabFilter Timeless 3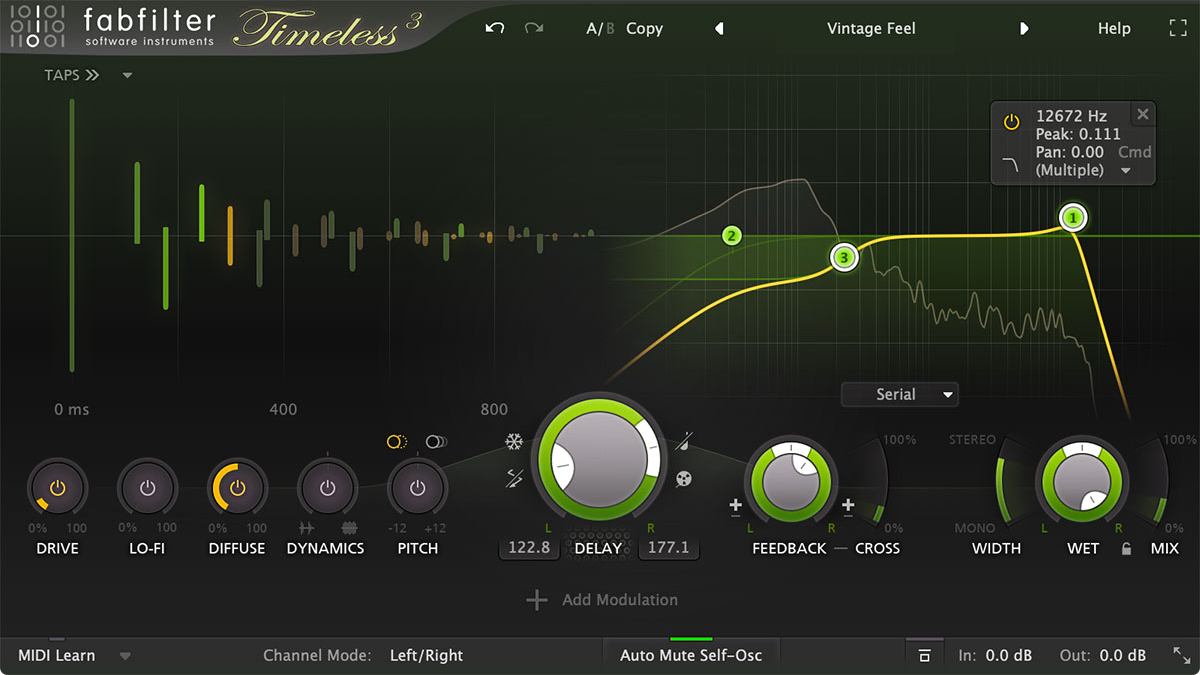 [With Timeless 3,] FabFilter has successfully blended sonic quality with a comprehensive set of delay and modulation tools, all within an easy to use and peruse interface. Truly awesome. Verdict: 10/10!
If there's a delay-shaped hole in your plug-in folder, then you should find that Timeless 2 is a perfect fit. Verdict: 10/10!
The FabFilter Timeless 2 modular delay and Fabfilter Volcano 2 modular filter have been our favourite delay and filter plug-ins for a while now.
When I first heard FabFilter Timeless 2 I knew that it was something I would be using a lot on my mixes. The range of effects this thing can create is incredible!
FabFilter Timeless is another favorite of mine. I love delay and the ability to create crunchy modulated delays and creative effects has changed my mixes forever!
The more we threw at it, the more ideas it threw back, and we found ourselves whiling away for hours, enthralled by what we were hearing.
Besides being incredibly versatile, it is also easy to operate. Just do yourself a favor and go check the demo. I am pretty sure you will be impressed with what it can do!
I loved it from the minute I checked the presets! Chorus & flange, reverb, fx, resonaters, rhythmic effects, and tons more. From basic delays to crazy weird fx, it's all there.
Timeless 2 is not only a versatile tool but a fun one, too. MusicRadar rating: 5 of 5 stars!
If you only get one delay plugin, it's hard to beat Timeless. It does everything you'd expect from a regular delay, but it can also be pushed into places you'd never expect a delay to go.
...the modulation capabilities on Timeless are far beyond most delays...
[FabFilter Timeless] is not your average delay with only a handful of different sounds. This is a delay designer, and it can do things you'd never expect from a delay plugin, ...
Even if you've got a truckload of modulation and echo plug-ins, this [FabFilter Timeless] is the one to be tried.
Not only does it [FabFilter Timeless] sound first class, but it's also a joy to use and is packed with cool little touches...
[FabFilter] Timeless isn't 'just' a delay plug-in, it's a versatile sound design toolbox built to give any producer a fresh, time/pitch-shifting angle on delay, phasing, chorus, filtering and even reverb.
... [the filters in Timeless] sound just as incredible as their dedicated stablemates, with the harder characteristic settings adding bite to any signal, and the softer ones sounding smooth and musical.
... to call it [FabFilter Timeless] a delay is like describing Buckingham Palace as a house.
FabFilter's thing is analogue modelling, old school authenticity and top-notch sound quality, and that's why a delay unit from their labs is considerably more intriguing than it would be from most other developers.
... [FabFilter] Timeless is worth every krona. The plug is without a doubt the king of delays and will help you take your music in very unexpected ways.
Timeless is a grand slam of a delay, and one that enables you to transform a signal into something entirely new and potentially unrecognisable.
Beautiful sounds, silky smooth looks... We're in love already!
FabFilter Volcano 3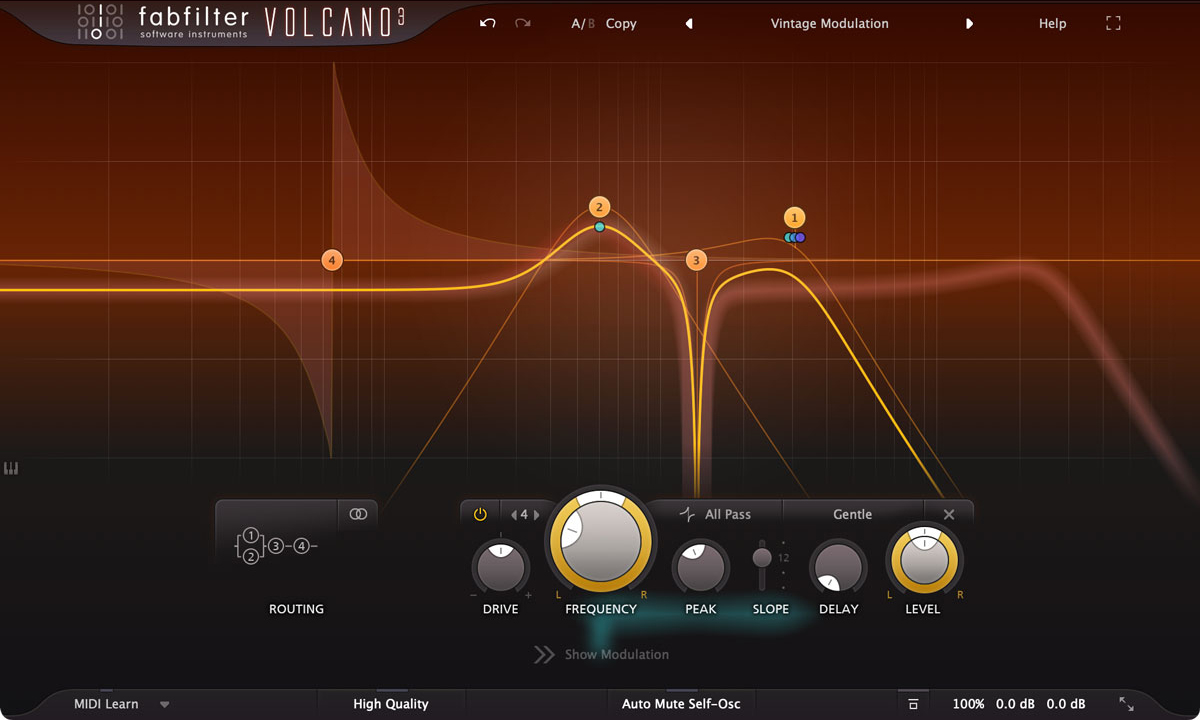 Digging into Volcano 3 is a pleasure, not just for the sonic results, but for the creative expansion that comes with being able to quickly and easily assemble effects blocks [...]. Verdict: 10/10!
Top quality sonics with plenty of saturation options. Verdict: 10/10!
The Volcano 3 may look like a filter plug-in, and it is definitely a great one. In reality, it's much more than that [...]. Verdict: 10/10!
When I got my hands on Volcano and accidentally made the filters self-oscillate, I was converted forever.
The FabFilter Timeless 2 modular delay and Fabfilter Volcano 2 modular filter have been our favourite delay and filter plug-ins for a while now.
I think I can be brief here. Volcano 2 is just fabulous. It has become my go-to filter plug-in within days after I started using it. And yes, I'm using it for a lot more things than filtering.
Often software companies choose for either sound quality or quantity of features, but FabFilter Volcano 2 combines both.
With a stonking sound and incredible flexibility, Volcano 2 is a must for anyone seeking a characterful all-in-one filter solution
... with FabFilter's famously tasty filters under the hood, the sound [of Fabfilter Volcano 2] is as slick as the graphics
Volcano's interface works beautifully, making it snap to create anything from simple roll-offs to complex rhythmic effects and textures.
There are a plethora of possibilities, and the sidechaining, combined with Volcano 2's mid-side processing abilities, makes it one of the most flexible plug-ins around
You'll erupt with pleasure when you check out this amazingly flexible effect [FabFilter Volcano]
[FabFilter Volcano Verdict:] A beautiful sounding filter without the feature-laden excesses of its rivals.
The combination of a powerful sound and ease-of-use makes Volcano unique.
No matter how hard you push [FabFilter Volcano], there are no noticeable artefacts of any sort, and the self-oscillation sounds so real and pure that at times it's hard to believe it isn't coming from a piece of hardware.
[FabFilter Volcano] shares the same to-the-point functionality [as FabFilter One], solid but simple concept and genuine analogue sound, and is a joy to use.
I love Volcano's GUI and found it uncannily easy to morph on the fly using the drag-and-pull overlapping filters display window.
[FabFilter Volcano's] richness and tonal contour sound distinctively hybrid ? not modeled after any specific filter type ? and the Smart Parameter Interpolation technology made good on its guarantee of no click or pop annoyances during extreme tweaks.
Besides [FabFilter Volcano] being one of the smoothest and richest-sounding pairs of filters on its own, when in combination mode, the filters interplay with such musical-sounding results that it's easy to forget you're dealing with a mere filter plug-in, not some monster modular synth.
House-style sweeps are a piece of cake, and the modulation possibilities make it easy to create extreme burbles and squelches [in FabFilter Volcano].
Clever technology and a back-to-basics interface make Volcano a hit.
[...] For total smoothness, analogue warmth, and screaming self-oscillation, you'll struggle to find better than Volcano.
[FabFilter Volcano is] very different from the competition, being remarkably smooth but also capable of some serious sonic mangling.
The technology behind FabFilter's filter algorithm is impressive, and the six refined filter algorithms in Volcano are testament to the developers' eye for detail.
[FabFilter Volcano is] a slick and full-sounding effect which will keep you busy for weeks. You won't regret trying this one out for yourself...
FabFilter Twin 3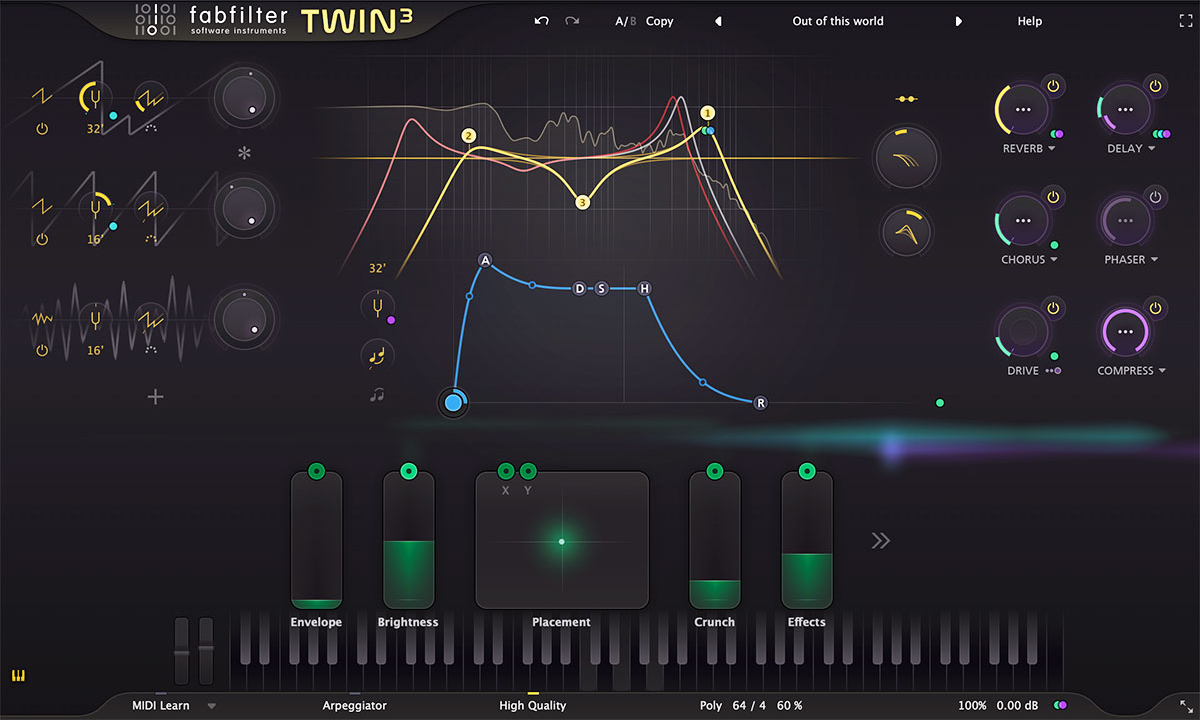 Once I found FabFilter Twin 2, I immediately noticed how great it works and how amazing it sounds!
Just getting into using the FabFilter Twin 2 too. [...] The synth-line that appears at the end of my remix of Beyonce's 'Sweet Dreams' is Twin 2.
I like all FabFilter plug-ins and I've used all of them in my tracks. The main lead of my track with Sophie Ellis Bextor for example was done with the FabFilter Twin 2!
FabFilter Twin 2 is one of the best virtual analoges we've heard so far, and at this price point it's well worth the investment!
The synth [FabFilter Twin 2] is great fun to program and play thanks to its suberb sound and comprehensive modulation system.
I can imagine that a lot of school programs will find FabFilter Twin 2 to be a very useful instrument for teaching synthesis.
... the beauty of the instrument [FabFilter Twin 2] emerges immediately and strikingly when it's heard in context alongside other instruments in a mix.
FabFilter Twin 2's visual presentation shifts constantly [...], exposing and highlighting its workings intelligently in response to the user's need. I am sure that no one reading this has another instrument in their kit that behaves visually like FabFilter Twin!
Twin 2 is the perfect virtual analog synthesizer. It topples almost everything in its class, hardware or software. [...] It has the style, the sound, the features, the ease of use, the presets (of which there are tons!), and the service behind it that is simply amazing.
The new GUI design [for FabFilter Twin 2] is simply amazing. While unique, it is not more complicated by the newness, but rather, they have continued to take interface interaction to a whole new level.
[FabFilter Twin 2] is the software instrument equivalent of The Empire Strikes Back. That one rare instance where the sequel is better than the original by leaps and bounds.
[FabFilter Twin] is a serious instrument that demands your attention and is sure to catch the ears of your listeners. Recommended.
Twin's sonic quality is a cut above nearly everthing in its class, and the ease with which it can be programmed means it will be as useful to the beginner as it will to the seasoned synthesist.
FabFilter have set a new standard for mod routings. [...] It's a clean, efficient and powerful system.
[Twin's] filters sound fantastic, and run the sonic gamut from smooth to raw. Like the best vintage filters, they can be driven into self-oscillation.
FabFilter have won a lot of acclaim for the quality of their filters, and Twin gives you two of them.
[Twin] has everything that makes One so special, but adds a host of new features (not least of which is probably the best modulation routing system we've ever seen).
[...] the more than 500 presets [in Twin] should satisfy producers of all electronic genres.
[Twin's] mod matrix slot levels can also be cross-modulated, creating enormous tonal complexity.
What's really cool, though, is the ability to set up source and destination routings in [Twin's] mod matrix by clicking on and dragging any modulation source to any target.
Smooth isn't a strong enough word to describe [Twin's] filters; they're some of the best analog models I've ever heard.
Twin is the next logical step up from One, boasting two oscillators, two filters and a few totally new goodies, including quite possibly the most intuitive modulation system ever committed to code.
FabFilter Twin is straight-up virtual analogue synthesis done right, and a definite keeper.
Twin is an essential buy for any serious synth-head.
FabFilter's Smart Parameter Interpolation ensures that there's no aliasing at all, even when parameters are adjusted with a 128-step MIDI controller.
As expected [FabFilter Twin's] oscillators and filters are smooth, powerful and fast - whether you're patching a ballsy bass sound, a blazing lead, an undulating pad or a cinematic effect, the sound is never less than gloriously analogue.
This superb system [in FabFilter Twin] creates an endless playground of modulation and cross-modulation that never gets in the way of your creativity.
Twin's modulation set-up is ingenious in both its simplicity and power.
FabFilter One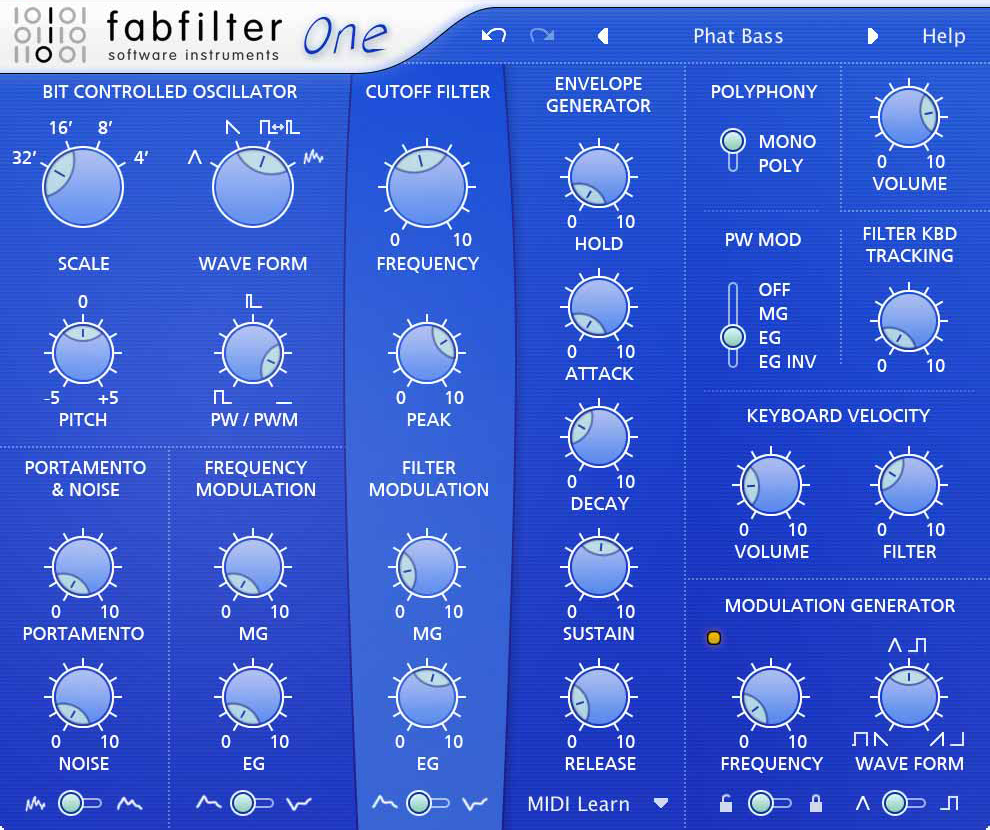 I was really impressed with the cutting sound [of FabFilter One]! It seems perfect for my in-your-face style of music, with plenty of scope for tweaking sounds to create mayhem!
One centres on a deeply impressive modelled oscillator and filter combo that stands amongst the most authentic 'analogue' ever made, due to its flawless anti-aliasing, rich sound and convincing self-oscillation.
[FabFilter One is] superb for analogue drum sounds, retro leads, basses and sound effects [...].
FabFilter aren't exaggerating too much with their claims regarding the oscillator and filter [of FabFilter One] - thanks to the smart interpolation algorithms under the hood they really do display genuine 'analogue' fluidity and tonality.
[...] I found [FabFilter One] hugely entertaining, and it did take me back to basics in quite a carthartic way. This feeling is encouraged no end by the phenomenal quality of the sound.
[FabFilter One combines] a near perfect modelled oscillator with a distinctly serious self-oscillating analogue-style filter.
FabFilter One [...] does what it sets out to do with style and polish.
FabFilter One is for those who want a shining example of simple, soft synth design at its best [...], and for those who still don't believe that software can sound as good as hardware.
FabFilter Simplon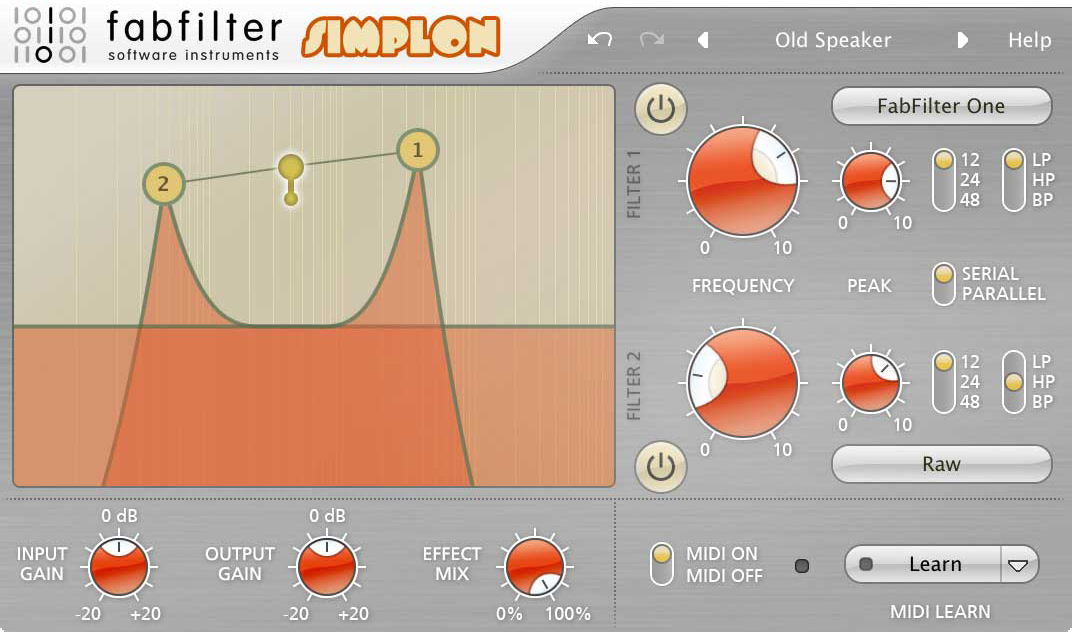 Just hours after installing simplon it became my "go to filter". Whenever I need a filter, it's the first plug-in I go for because it sounds great and is easy to use in the creative process.
FabFilter
...FabFilter bring authentic analog characteristics to the digital realm
Every man, woman, child and dog needs to know how amazing these plug-ins are! After purchasing the complete FabFilter suite, my mixes have suffered from some serious ear candy, I pride myself in buying plugins for real money, and can honestly say I haven't spent a better penny than when I purchased these plug-ins. They simply and effectively do the job they were made for! I don't think that the rest of my plug-ins are going to see the light of day for a while! 10/10 for the FabFilter Team. Can't wait for more goodies.
FabFilter's [..] EQ and dynamics plug-ins [...] are notable not only for their extremely clean sound, but also for their innovative and intuitive user interfaces.