About FabFilter Simplon
After our first filter plugin FabFilter Volcano, we now offer a more basic way of using our filters. FabFilter Simplon is the answer if you need quality filtering for an affordable price.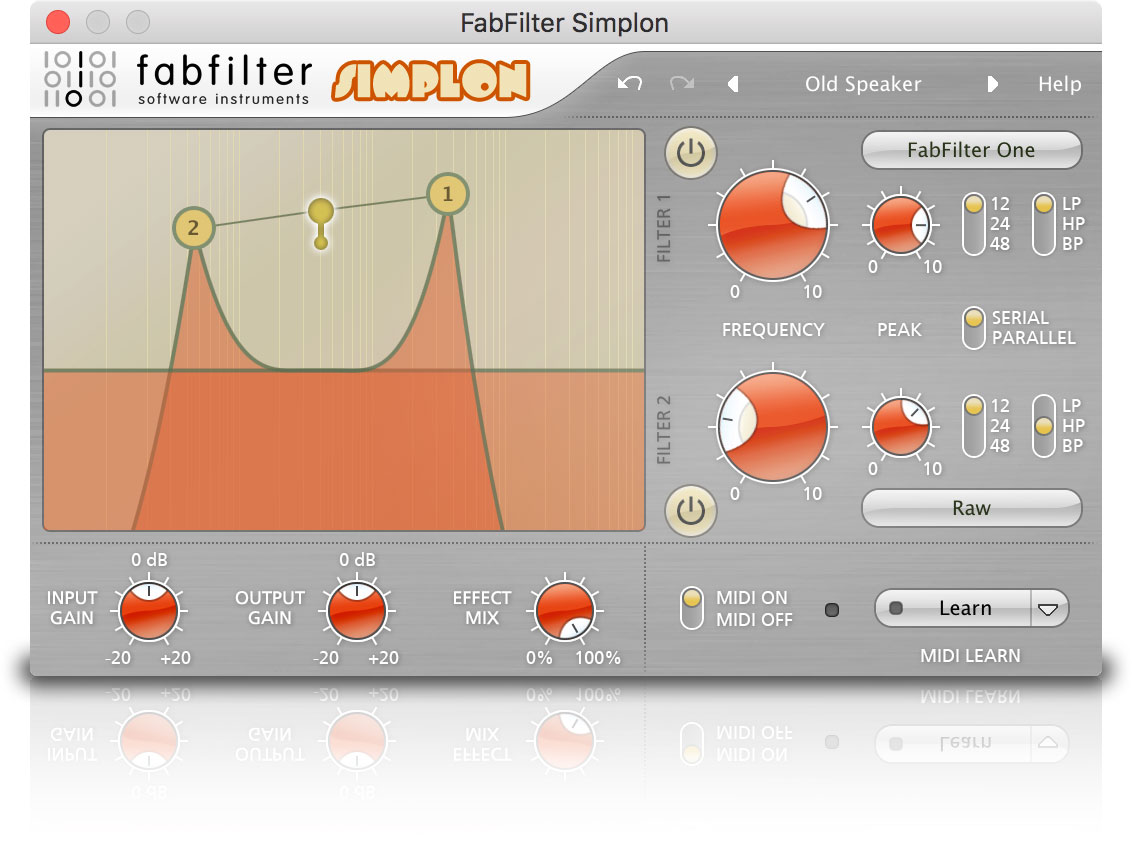 FabFilter Simplon provides the best sounding filters in an easy to use setup. It contains the fattest multi-mode filters which are impressively analogue-sounding with brilliant resonant sweeps and a deep bass end.
Multimode filters
Two independent multimode filters provide low-pass, high-pass, and band-pass responses with 12, 24 and 48 dB/octave slopes. Both filters feature three different high-quality filter characteristics that define the unique sound and overdrive of the filter. They range from smooth and clean to raw, self-oscillating and over-the-top! Since the 2 multi-mode filters work both serially and in parallel you can combine them in any way imaginable.
Interactive filter display
Tweak the filters with the interactive filter display that shows both filter curves and lets you drag them around. You can adjust them separately or both at the same time.
MIDI learn
FabFilter Simplon works with any MIDI keyboard or controller. It is very easy to assign each of Simplon's parameters with any MIDI controller number, just by turning knobs in the user interface and on the external controller.
Smart parameter interpolation
Changes to any of FabFilter Simplon's parameters are interpolated by smart algorithms, ensuring both responsiveness and smooth transitions. There are no unwanted digital clicks and zipper effects, and even MIDI controller changes are handled perfectly smooth.
Low CPU usage
We have taken great care to ensure that FabFilter Simplon uses even less CPU power than Volcano with innovative AltiVec and SSE optimizations. All parameters can be automated and handling of MIDI events and parameter changes is sample accurate.
Platform-independent presets
FabFilter Simplon enables you to create and save your own presets. You can share your settings with other users and the preset files are the same on Windows and macOS.
FabFilter Simplon is available in VST, VST3, AU (Audio Units), AAX Native and AudioSuite formats.
Windows requirements

Windows 11, 10, 8, 7 or Vista

64-bit or 32-bit

VST 2/3 host or Pro Tools

macOS requirements

macOS 10.13 or higher (64-bit only)

AU or VST 2/3 host or Pro Tools

Intel or Apple Silicon processor
---
Next: Quick start
See Also
Using FabFilter Simplon