Filters
FabFilter Simplon comes with two high quality filters, each featuring various sound characteristics. These multimode filters sound the same as our award winning filters used in the FabFilter One and FabFilter Volcano. You can use them individually or combine filter characteristics to create your own sounds. To get the best out of Simplon, you need to give it something rich in harmonics (synth sounds, distorted guitar and complete mixes are good sources for filtering).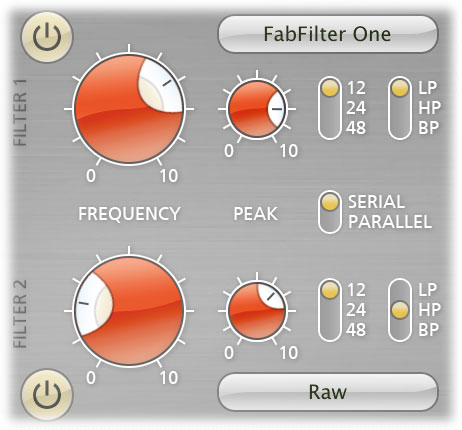 You control each filter with the following settings:
Linking the two filters
When you want to change the Frequency and the Peak setting of both filters simultaneously, just hold down the Alt key while turning a knob. For example, you can set them up as dual, resonant band-pass filters and sweep the cutoffs simultaneously. This configuration will give you access to all manner of 'vocal' sounds, as well as even more dramatic formant-based timbres.
To adjust both filters simultaneously, but in the opposite direction hold down the Ctrl and Alt keys (Windows) or the Command and Alt keys (Mac) and drag the knob for filter 1 or 2.
---
Next: Interactive filter display