About FabFilter Twin 3
We launched FabFilter as a company in 2004 with a small blue synthesizer: FabFilter One. It soon became famous for its filter quality, which proved to be a firm base for many plug-ins to follow. Since that time, a lot has happened, and although FabFilter established itself with professional mixing tools like Pro-Q and Pro-L, our love for synthesizers never faded.
With FabFilter Twin 3, we've reinvented Twin and its workflow, while still staying true to what it has always been: an awesome sounding virtual analog, subtractive synthesizer. With a fully redesigned interface and new full-featured preset browser, Twin has become much easier to use and program. And the new FX section, filter options, arpeggiator and sound improvements open up a whole new world of possibilities. Let's dive in!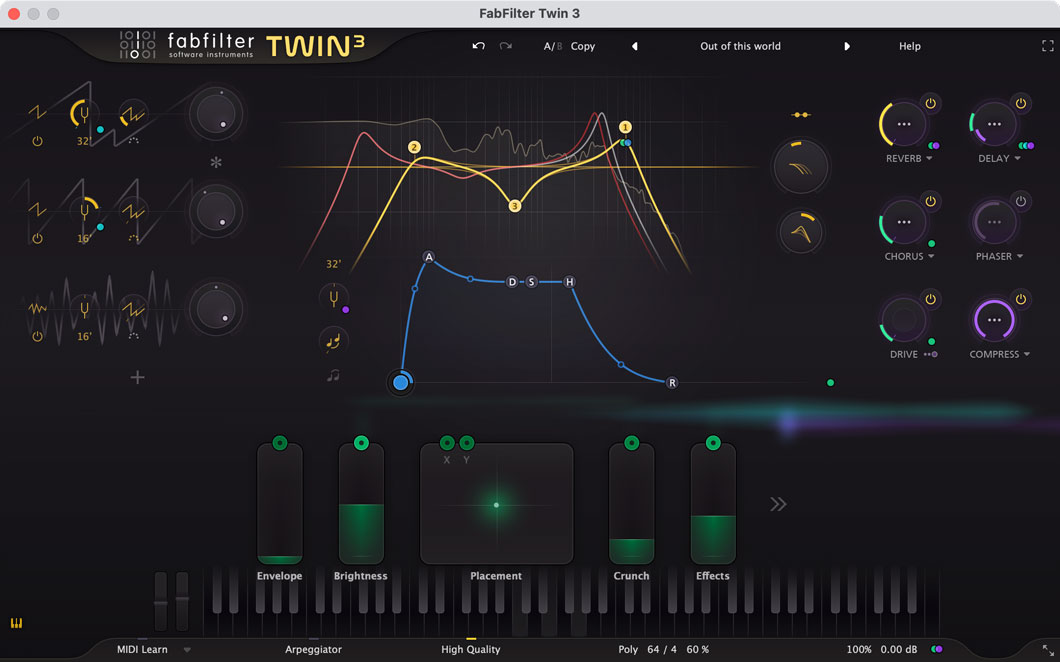 New in Twin 3
The first thing you will notice when you open Twin 3 is the brand-new look. The completely redesigned interface makes Twin 3 more pleasant and much more intuitive to work with. All the goodness is still here of course, together with many new features:
Fully redesigned, highly simplified interface, with an easier workflow, including a new design of modulation sources and floating slot panel and FX panels.
Improved the oscillator and filter sound quality, with built-in, analog-modelled drift.
Added an extra fourth oscillator.
Increased the maximum number of voices from 32 to 64.
Added a Per Oscillator polyphony mode, where every note triggers a different oscillator.
Added two extra filters, so four available in total.
Added new, vintage-sounding EQ-type filter shapes (bell, shelf, notch) for every included filter style. With the internal drive and non-linearities, this results in truly unique filtering behavior, with lots of character, incomparable to usual, clean EQ filters. Filters can be created and deleted in the display, just like in Pro-Q or Volcano 3.
Added 6 dB/oct filter slope option.
Introduced large Cutoff/Peak offset knobs, which adjust all filters at once. Of course, these can be modulated as well.
Introduced an FX section with 6 different effects:
Introducing a full-featured preset browser, with support for tags, favorites and easy searching and filtering.
Added an Arpeggiator, with host tempo sync, groove/legato controls and transpose, note order and latch options.
Added optional High Quality mode, which turns on 4x oversampling.
Introduced Source Level (-200% .. 200%) control for XLFOs, EGs, EFs and MIDI Sources, which scales the output of the source. Of course, this can also be modulated.
Lowered minimum Envelope generator attack/decay and release times. Also, EGs now have a curve slope setting for the different stages, opening up a much wider range of possible shapes, from very snappy and aggressive to gentle and smooth.
The EG Threshold parameters are now modulation targets. In addition, the incoming signal level is displayed in a meter around the Threshold knob, and it's now possible to audition the external side chain input.
Added Transient mode for envelope followers, which turns them into transient detectors.
Introducing Slider mode and a range setting for XY controllers. In Slider mode, the XY controller only works in vertical direction, taking up much less space. The range setting toggles between bipolar (-1 to 1) and unipolar (0 to 1) behavior.
Increased the number of XY controllers/sliders to 6.
Modulation sources can now be renamed to make their use easier to understand.
Increased the maximum number of modulation slots to 100.
The XLFO Balance and Frequency Offset parameters are now modulation targets.
XLFO MIDI triggering now offers a new Legato mode.
MIDI Sources now offer a Range option (available for Velocity and KB Track input), which lets you choose between Negative (-1..0), Centered (-1..1) or Positive (0..1).
Added the ability to hide modulation sources except for XY controllers and Sliders. This is often useful, since most presets use XLFOs, EFs, EGs and MIDI sources to create certain effects, which in turn can be controlled by XY controllers and sliders.
Native sustain pedal support.
The interface now supports resizing and Full Screen mode.
The resize button in the bottom right corner of the interface now offers a Scaling submenu, with options to increase or decrease the scale of the entire interface, e.g. 125%, 150%, etc.
New factory presets, smartly organized and carefully designed.
Support for loading Twin 2 and Twin 1 presets.
Introduced support for Pro Tools hardware control surfaces.
FabFilter Twin 3 is available in VST, VST3, AU (Audio Units) and AAX Native formats.
Windows requirements

Windows 11, 10, 8, 7 or Vista

64-bit or 32-bit

VST 2/3 host or Pro Tools

macOS requirements

macOS 10.13 or higher (64-bit only)

AU or VST 2/3 host or Pro Tools

Intel or Apple Silicon processor
---
Next: Quick start