Overview
FabFilter Twin 2's interface is divided into multiple sections: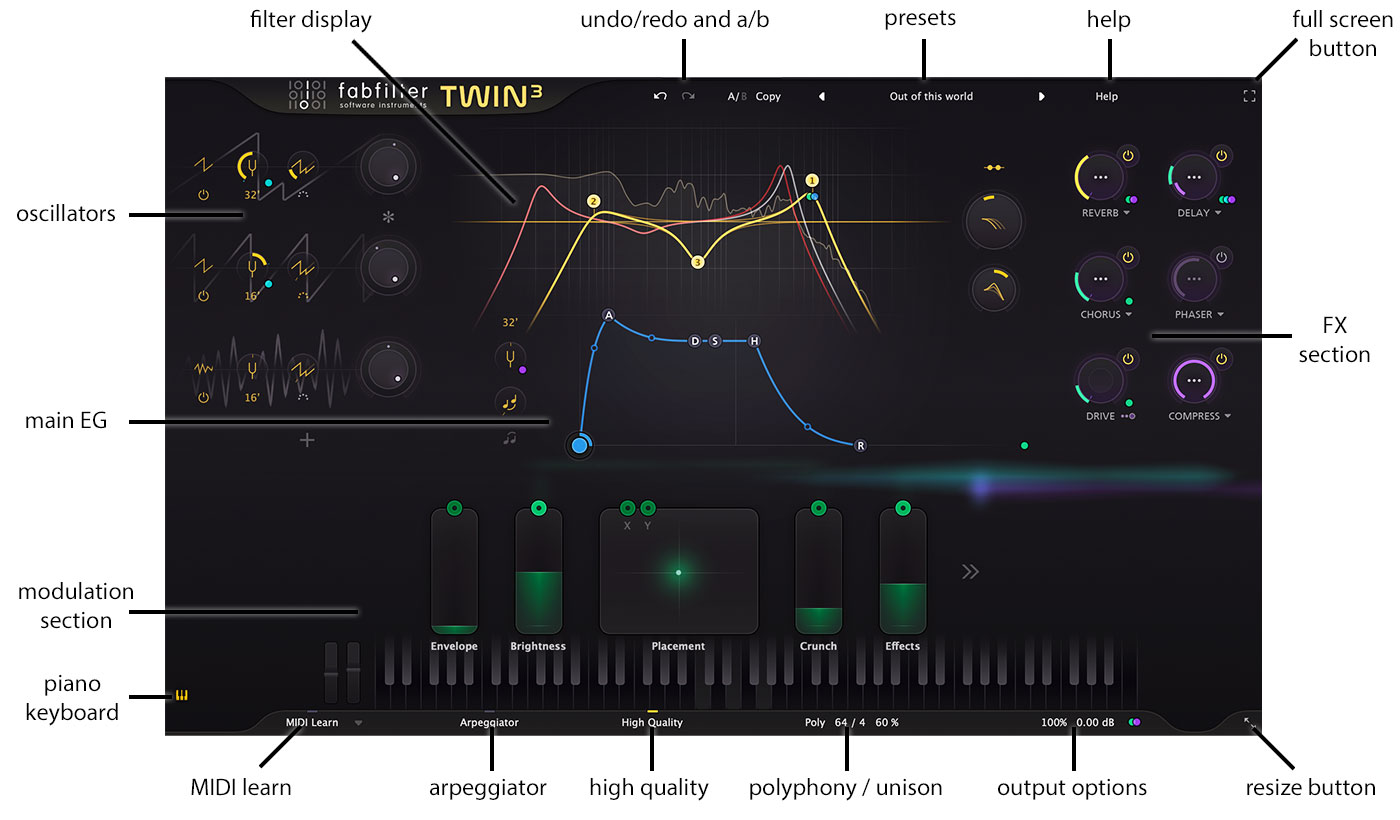 Presets, undo and A/B
The Undo, Redo, A/B and Copy buttons at the top of the plug-in interface enable you to undo your changes and switch between different states of the plug-in. With the preset buttons, you can easily browse through the vast library of factory presets or save your own settings so you can re-use them in other songs.

Synth section
The top section is the actual synth, the sound-producing heart of the instrument. Here you'll find the oscillators, the filters, the main envelope generator and the delays logically displayed, together with general settings like portamento, master tune and volume controls. Each component of the synthesizer is represented by a component button that shows its state and lets you edit it directly.

Modulation button
The modulation button shows or hides the entire modulation section at the bottom of the interface. FabFilter Twin 2 offers virtually unlimited modulation possibilities, but all this power might be a bit intimidating. That's why the modulation section is hidden by default, and you can look 'under the hood' when you want to tweak a preset or design your own.
Source selection bar
The source selection bar shows all modulation sources at a glance and lets you easily scroll around and create new sources. FabFilter Twin 2 offers XLFO, Envelope Generator (EG), Envelope Follower (EF), MIDI and XY Controller sources. See also Modulation.

Modulation slots and sources
The bottom section contains the modulation overview. Twin 2 is a fully modular synthesizer without the cables! We found a simple way to show you everything that is modulating, and what is modulated by what. Above each modulation source, the modulation slots show exactly what targets are modulated by this source and let you adjust the amount of modulation. You can very easily set up modulation connections with drag-and-drop. All in all, we think we made sound design easier and more fun!

MIDI Learn, monitoring and output mix
The bottom bar contains the MIDI Learn feature which sets up any MIDI controller to control any plug-in parameter. Next, we find various polyphony and unison settings which give you the possibility to create super-fat sounds. At the far right are stereo spread and output level settings.

Resize
The resize button in the lower-right corner lets you choose between normal and wide interface layouts. The wide layout is designed such that the component display at the top half of the interface never needs to be scrolled. Most hosts support dynamic resizing of the interface; otherwise just close and re-open the interface window.

Presets
With the preset buttons, you can easily browse through the factory presets or save your own sounds so you can re-use them in other songs. See also Presets.
---
Next: What-you-use-is-what-you-see
See Also
Quick start