Overview
FabFilter Twin 3's interface is divided into multiple sections: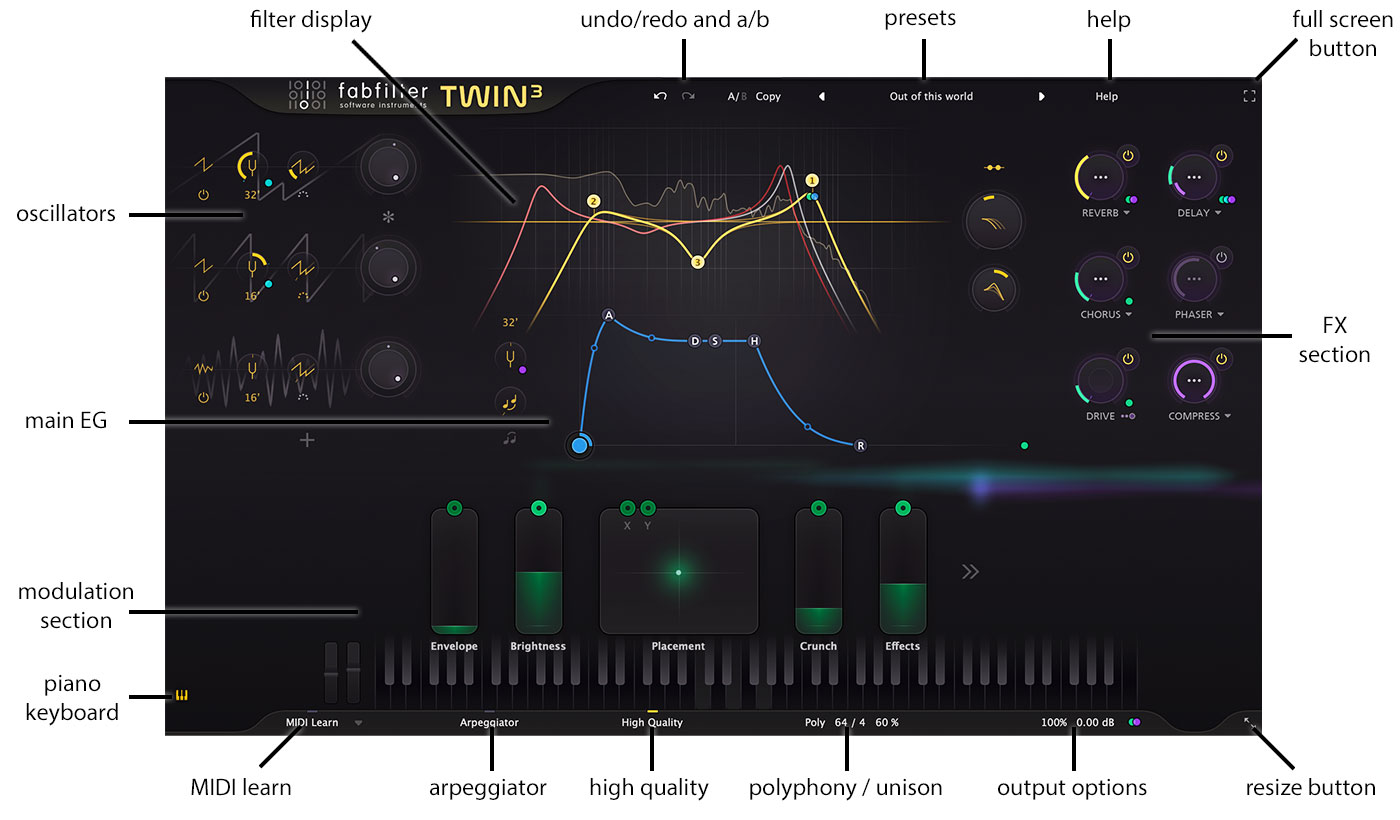 Oscillators
Twin 3 lets you add up to four oscillators on the fly. The oscillator settings can be easily customized directly and the produced wave form is visualized in the background.
Filter display
The filter display lets you create up to four different classic, non-linear, self-oscillating filters, which can be either low/high pass, band pass, bell, low/high shelf or notch. See Filters.
Main EG
Centered in the interface, the large ADSR envelope generator lets you easily customize the main envelope of the produced sound.
FX section
Twin 3 offers six out-of-the-box effects, which can be easily enabled and controlled via the FX section at the right of the interace. Clicking on the Amount knob will open up a panel of options for each effect except Drive. See FX section.
Modulation section
The modulation section at the bottom shows all modulation sources, visualizing the signal flow and making it easy to set up modulation and create new sources. FabFilter Twin 3 offers XLFO, envelope generator (EG), envelope follower (EF), MIDI and XY controller or slider sources. See Modulation to get started.
Piano keyboard
The Piano Keyboard button shows or hides the piano keyboard underneath the modulation section. It visualizes incoming MIDI notes and you can click keys to play notes manually.
Arpeggiator
The arpeggiator button opens a panel with option to enable and customize the internal arpeggiator.
High Quality
The High Quality button controls the oversampling of the internal algorithms. See Output controls.
Polyphony / unison
The Polyphony button gives access to polyphony, unison settings and microtuning. See Polyphony, unison and microtuning.
Output options
On the far right of the bottom bar, the output button gives access to stereo width, output level and panning controls. See Output controls.
Full Screen mode, resizing and scaling
The Resize button at the far right of the bottom bar lets you change the interface size and scaling. In addition, click the Full Screen button in the top-right corner of the interface to let Twin 3 fill the entire screen. See Full Screen mode, resizing and scaling.
MIDI learn
MIDI Learn lets you easily associate any MIDI controller with any plug-in parameter. See MIDI Learn.

Presets, undo, A/B, help
With the preset buttons, you can easily browse through the factory presets or save your own settings so you can re-use them in other songs. The Undo, Redo, A/B and Copy buttons at the top of the plug-in interface enable you to undo your changes and switch between different states of the plug-in. Finally, the Help menu provides access to help and version information. See Loading presets and Undo, redo, A/B switch.
---
Next: Knobs
See Also
About FabFilter Twin 3
Support